Cheeky Cupid Statues – Living Statues | UK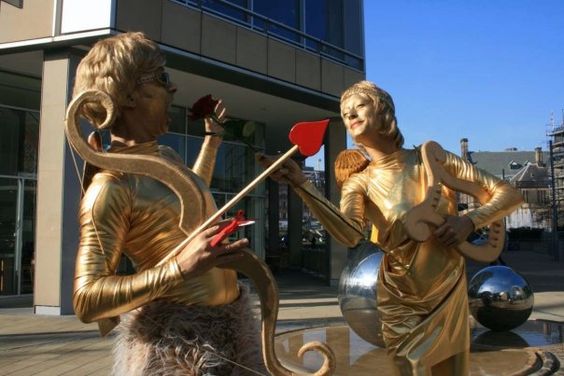 A mischievous pair of cupid statues, 'Stupid Cupid & Cheeky Cherub', work perfectly with Valentines themed events and can pose in a playful fashion for your guests or passers-by. Guaranteed to spread the love! Shopping centres can have them interact with their shoppers, really getting everyone in the mood for love.
Available for all manner of events, private parties, corporate events, launches and openings. These interactive, energetic and enigmatic statues will impress everyone with their shenanigans!
Standard Length of Performance: 3 x 30 minutes sets.
Past Events Include:
Exit Festival - Serbia 2006-2008
Glastonbury Festival 2005-2008
Ministry of Sound - Spain
Cadillac Car Launch - Jordan
Hard Rock Cafe
Vimto promotions
Godskitchen Arena Tours
Gatecrasher Events
All their artists are fully insured professionals and members of Equity.
Photos of Cheeky Cupid Statues