Cascade Slide – Fairground Rides | UK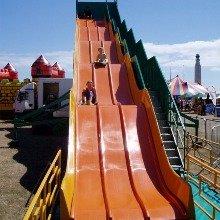 Cascade Slide
Looking for something unique and different to present? Our Cascade Slide is the premier ride of its type in the UK.
The Cascade Slide enjoys a very high number of repeat bookings. Some 35ft high, riders are supervised into the mats at top and shown correct riding position before hurtling down safely .
The slide comes with queuing rails, pay kiosk if required and 20ft run off boards (not illustrated).
Excellent lighting available if required for evening operation. Superb attraction for all ages.
Space requirements: 16ft frontage x 75ft depth x 35ft high
Photos of Cascade Slide