Caribbean: Tony Charles – Steel Band | UK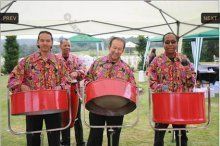 The legendary 'Tony Charles Steel Band' will bring colour, flair and a distinctive sound to your event. Headed by Tony Charles, the band has a vast range of ecstatic previous clients and have performed at the Buckingham Palace Garden Party at Her Majesty's request.
Tony is a drummer & percussionist and heads the prestigious Tony Charles Steel Band. His work can be heard on (What A) Wonderful World on Bryan Ferrys Another Time Another Place album.
Standard Length of Performance:
4 hours with 2 x 20 minutes breaks.
Testimonials:
"The band were brilliant as they were before – we'd love to have them back next year and I'll be in touch with dates as soon as possible!"
-Fortune Cookie
It all went really well thank you – please pass on my thanks to Tony Charles and his band as I didn't have a chance to say goodbye to them! They were great! I managed to say thanks and bye to Chris and Paul (magicians) who also entertained our guests very well. Thanks so much for your help.
- Incisive Media
"The band was absolutely great. They were perfect for the type of events we do, we will definitely be using them again. They gave that extra sparkle to the event. They created a lovely atmosphere to allowing the delegates to focus on networking. Many thanks for recommending them."
- Lloyds TSB Commercial Finance
"Tony Charles extremely experienced and top of his trade. Accommodating and very hard working. Excellent background to the evening."
- Lloyds TSB
"They were very good, added a summery feel to a not so summery day, and they were very flexible with whether they played inside or out."
- Fortune Cookie
"Please pass on our sincere thanks to the chaps for Friday's event. They were superb. The sound was great and really helped to set the atmosphere. There were lots of comments about how much everyone enjoyed listening to them. I have no hesitation in recommending them for any other event. "
- Fishburn Hedges
"The guys were great, worked really well for the party."
- Taste Events (via Contraband)
Photos of Tony Charles