British: Pearly Kings & Queens – Cockney Band | UK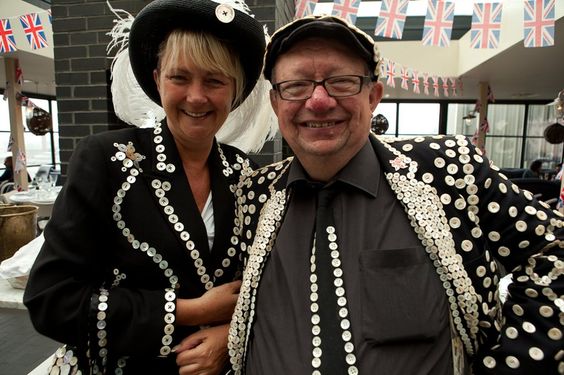 The Pearly King & Queen are excellent singers and entertainers. The duo will come to your club or party and add an authentic flavour of London. They are also available as a trio or a full 5-piece band – The Cockney Band.
They will stroll, meet and greet- playing acoustically- or perform a show with flags, spotlight etc.
The Pearly suits are spectacular, more than 10,000 buttons on the Pearly King suit! They will travel anywhere and bring everything required with them including Union Jack waving flags.
3 different shows are available:
Full Show
Full 5-piece band in pearly buttons. The Pearly King & Queen singing, piano, guitar and drums Backing flags and spotlight included.
Cockney Duo or Trio
The Pearly King with piano / vocals / guitar / optional drums. They will perform 2 x 60 minutes sets.
Pearly King & Queen
Ideal to give a taste of traditional or Victorian London. 2 x 45 minutes sets of live music.
They are also available as meet and greet artistes playing acoustic in strolling mode.
Whatever you book you'll find all the traditional favourites:
Lambeth Walk
Knocked 'em in the Old Kent Road
I'm Forever Blowing Bubbles
Maybe it's Because I'm a Londoner
Down at the Old Bull and Bush
Plus all the others you would expect to hear and a few surprises. The Pearly Queen sings songs from the popular London shows and the Pearly King will entertain with "The Day the Old Dun Cow Caught Fire!" and a version of "Sister Susie" performed at a stunning pace. The familiar Chas & Dave favourites are not forgotten.
Union Jack hand flags are given to the audience, the flag waving finale is a spectacular and a lasting memory.
The Cockney Band can also perform in strolling mode with acoustic instruments for town centre, fair or meet and greet events.
Testimonials:
"It went so well thank you! Hope you had a great trip. The Pearly King and Queen were absolutely WONDERFUL. So lovely and really got the party started, creating a very British atmosphere."
-Members' Events Manager, Soho House Group
"I cannot thank you and your team enough for making the last night of my conference so marvellous, as you were aware everyone was up and dancing and the cards, letters and e-mails I have received have said it was the best president's night ever and I agree with that. Thank you so much for getting everyone in the spirit we so enjoyed ourselves, what more can I say I am delighted."
– Inner Wheel
"Thank you for providing us with great entertainment. I have to say you exceeded all our expectations – we were all saying how good you were on the way home!"
– Acquisition Marketing & PR Executive
"You were brilliant! We had endless comments about how fantastic and joyful you both were and it made such a fantastic entrance to the party. Thank you so much for playing right up until the welcome speech."
– Resurgo Trust
"Once again thank you to you, Sue and the rest of the band for joining in the spirit of things and embracing the atmosphere last night and taking the sing-a-long to the guests on the roof!!!!"
– Unilever
"The evening went extremely well! John and his performing partner were very nice and it really helped set the ambiance of the party!"
– Ansco Arena Limited (via Contraband)
Previous Clients Include:
Resurgo Trust
Sudbury Town Council
Larger Than Life Agency
Park Resorts
Warner's
Richardson's Leisure
Rotary Inner Wheel
South West Fest Pimlico
Unilever
Liz Hobbs Agency
Photos of Pearly Kings and Queens