Comedy Act: Bartholomew Blake the Undertaker – Scotland & UK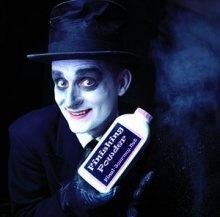 Bartholomew Blake the Undertaker
In this fantastic walkabout character we are delicately reminded of our mortality, as Bartholomew mingles with the crowds, taking discreet measurements of prospective clients and commenting on pallor. This funeral director lures audiences with his intriguing fetish for object balancing. And watch out for the 'Finishing Powder'!
A one man interactive walkabout act, featuring circus balancing skills, at his prime in a mingling environment. This act is available on or off stilts, or as a 10 minute cabaret sketch (involving participant). Also possible for more intimate venues.
Perfect for gothic themes, cabarets, parties, meet and greets, Victorian themes and Halloween. This performance is dead entertaining.
Previous Work Includes:
Tall Ships Festival
Brighton Sea Festival
Fiddle Festival
Celtic Connections Festival
Dance Festival
Roslin Institute
Film Opening
Edinburgh Film Festival
Johnny Walker Product Launch
Spanish Peaks Festival
Greentop Circus Workshop
Fred Olsen Cruises
Coastal Currents Arts Festival
Prestonfield House Hotel
Photos of Bartholomew Blake the Undertaker