Balloon Lunatics – Balloon Modelling Stilt Walkers | UK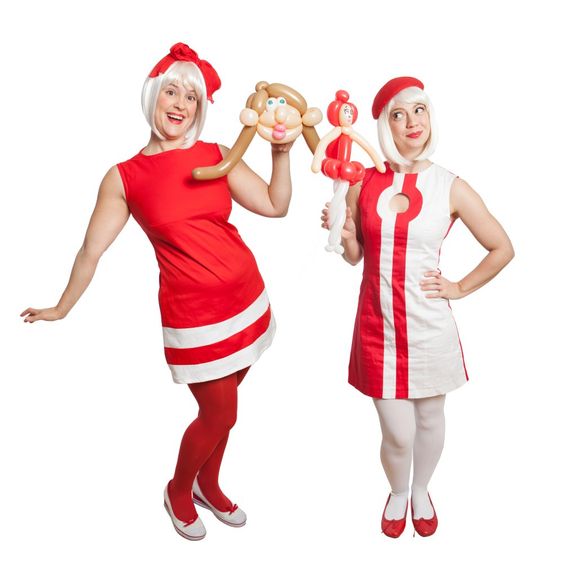 Balloon Lunatics are the UKs most extravagant stiltwalking balloon artists, adding a gigantic splash of colour to your event!
Balloon Lunatics are those perfect walkabout performers, combining humour, mischief, class and incredible artistic ability to produce mind-boggling entertainment. Balloonatic will have you dumb with amazement and shaking with laughter by turns, whatever your age. Excellent for family and adult events, these towering entertainers delight kids and help grown-ups feel young again!
Balloon Lunatics can offer many different acts to suit your event, including:
Acts Available Include:
Balloon Lunacy:
The Balloon Lunatics bring colour and excitement to any occasion. They can transform a room in a matter of minutes and bring a smile to faces of many. They are very original and never make the same balloon twice (unless asked really nicely!). They can make absolutely anything out of balloon – go on, test them, they love a challenge!!
Balloon Attack:
Picture the scene – as every one is gathered waiting for an event to start the awkwardness is thick in the air, then come in the Balloon Lunatics! They transform everyone in the room by providing them with a gorgeous balloon hat. They arrive with ready-blown up balloons to create their magic and in a flash they are gone leaving a colourful mess of people and giggles behind them!
Giant Sculptures:
Balloon Lunatics are often commissioned to make giant sculptures (often as an artist-at-work performance). They can make balloon art tailored to your chosen theme. For recent maritime events they have made giant shark hats, armbands, snorkels, rubber ducky rings, boats, fish on fishing lines and tailor make scuba diving outfits!
Balloon Workshops:
Learn to make a crazy balloon hat and the customary sausage dog or rubber sword. The highly trained Balloon Lunatic will guide you through step-by-step and you can take home a creation that you made yourself. Great as a fun team-building exercise!
Costumes Available Include:
Red and White:
These colourful characters really stand out in a crowd! They are great for family fun days or general mix and mingle, and are available on stilts or on ground level.
Black and White:
These cheeky 60's dolly rockers add humour to any party! This fashion conscious duo like to accessorise everyone in the room with balloons – handbag or corsage anyone? This is also available as a male character. Great at Matmitzvah's and any black & white themed event!
The Monochromatics:
Add a touch of glamour to your event with the Monochromatics. They will charm the socks off the unsuspecting guests.
Elves/Pixies:
The Elves are cheeky and very naughty! They have been banished from the toy workshop in the North Pole and they have been told to practise with balloons until they are good enough to return! Great at Christmas parties and woodland themes. They can also add different accessories to become leprechauns for St Patrick's Day.
Fairy/Angel:
These magical creatures can make all your wishes come true! You can have anything you ask for, so long as you don't mind it being made from balloons!
Swimmers:
Add a bit of sunshine to your life with these bathing belles. They love to create balloon hats, rubber rings, ducks, fishes, octopuses, and many more!
The Goddesses:
Let the Ballon Lunatics ladies mingle with your guests in their goddess-like white dresses.
Bespoke:
Balloon Lunatics are also able to create costumes tailor made to suit your event theme.
Testimonials:
"Definitely Britain's most extravagant balloon artists. A fantastic addition to every event."
- Missing Link Productions
"Oh I love them! I'm going to wear these all evening!"
- Sophie Ellis Bextor
"Incredible! Thank you!"
- Des O'Connor
"Thank you for letting us have Balloon Lunatics at our kid's pantomime at Apple on Saturday 7th January. I am so glad that we picked her for this particular event. The parents loved her as much as the kids- who thought she was the best thing since sliced bread. We particularly liked the way she spoke to the kids - very professional. I have now decided to take up balloon modelling as a side line - she made it look so easy, although I'm sure it's not!!! We shall definately be booking Michal again for future events, so please pass on our HUGE thanks to her"
- Apple
"Just wanted to write you a quick note to say thanks for all your help with organising the Balloon Lunatics entertainment for our Christmas event on Friday – the girls were absolutely fantastic and everyone really enjoyed all their crazy balloon modelling! The girls were very professional and really lovely to talk to – having them there helped everyone relax and made sure our night was lots of fun! I didn't know so many things could be created with balloons – from hats to tiaras and handbags! Please pass on our warmest thanks to the girls – we will definitely be recommending them!"
- REAL Solutions
"I just wanted to say thank you so much for the people you sent to us yesterday, they were fantastic and everyone loved them!! I have never seen a balloon artist that is so talented! "
- Betfair
Previous Clients Include:
Marks & Spencer
O2
Alliance & Leicester
Edwards Harvey
Betfair
Unilever
John Lewis
Lloyds TSB
Adams Creative
Photos of Balloon Lunatics Stiltwalkers