Armando Iannucci | Conference Facilitator | UK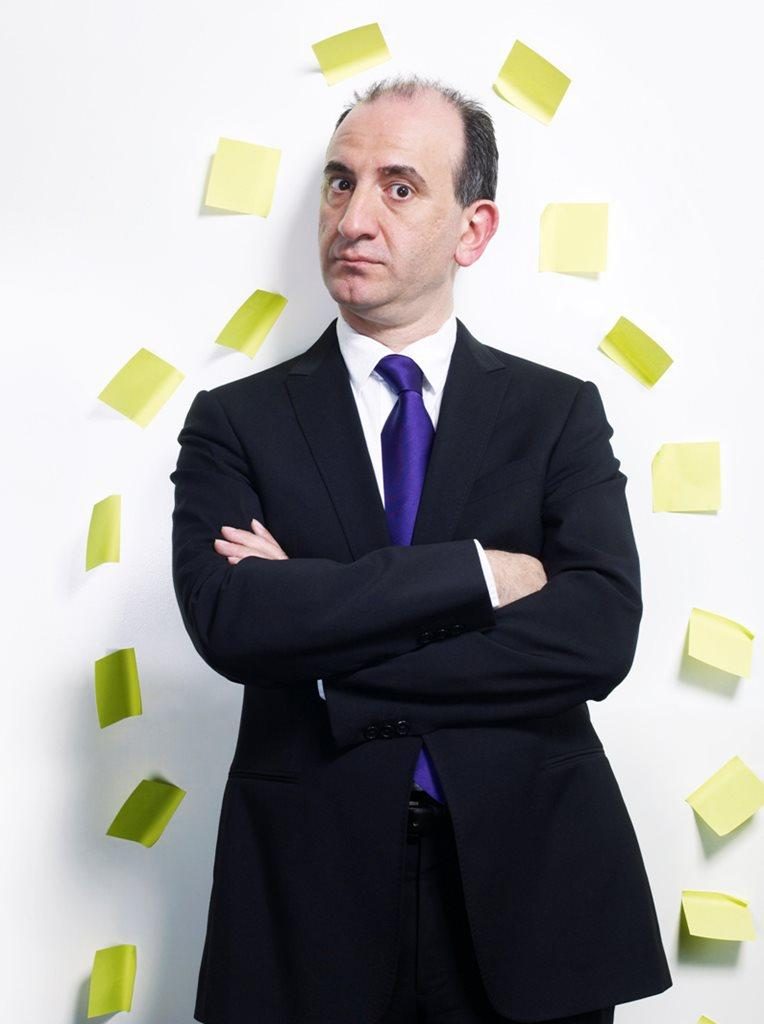 Armando Iannucci
Armando Iannuci is a British Satirist, writer, television director and radio producer. Armando makes a witty and dynamic speaker for events with his unique sense of humour and always keeps it interesting. Armando Iannuci is available to book for a variety of corporate events.
Hiring a host to endorse your brand, service or event is very simple. Contraband is the UK's top booking agent, with friendly, experienced account managers who guarantee you the best deal possible. We work in direct association with their representative
Overview

Armando Iannucci is one of the most successful and influential comedy writers, directors and producers in the UK. His TV shows have won a host of awards, including BAFTA's for I'm Alan Partridge & The Thick Of It, Special Jury British Comedy Award for The Day Today, and they have received nominations at the Emmy Awards (in 2012 for HBO's series Veep) and the Academy Awards (in 2012 for his debut feature film In The Loop).

About Armando Iannucci

Armando Iannucci is one of the most successful, prolific and influential comedy writers, directors and producers in the UK. He is an extremely experienced corporate host, speaker & facilitator, and his specialist subjects cover a huge scope of subjects, including current affairs, film & theatre, popular culture & social media. Armando also has a deep interest in science and astronomy, IT, computers, the internet and new media, and can competently cover these topics in after-dinner speeches too.

Armando wrote and directed the BAFTA-winning shows I'm Alan Partridge (starring Steve Coogan) and The Thick Of It, as well as fronting his own satirical shows The Friday Night Armistice for BBC 2, and The Armando Iannucci Shows for Channel 4. He wrote, directed and produced HBO's US comedy series, Veep, which was nominated, at the 2012 Emmy Awards, for the 'Outstanding Comedy Series' Award, and the show won 'Best Leading Actress in a Comedy Series' for Julia-Louis Dreyfus' performance.

Armando's spoof news show The Day Today (with fellow comedy writer Chris Morris) led to him winning the unique Special Jury British Comedy Award, in recognition of his distinctive contribution to radio and television comedy. His famous British comedy television series, The Thick Of It, was bestowed with three awards at the 2010 BAFTAs, including the award for Situation Comedy. Armando's feature film In the Loop premiered at the prestigious Sundance Film Festival in Utah in 2009. Directed by Armando, co-written with Jesse Armstrong and starring Peter Capaldi and James Gadolfini, it is a fast-paced film about Britain and America's "special relationship" in the lead-up to a war no one seems to be able to stop. The film received an Oscar nomination for Best Adapted Screenplay at the 82nd Academy Awards, March 2010.

Event Speaking, Hosting & Facilitating

Armando is available to hire for after-dinner speaking, hosting and facilitating. His witty style, sharp sense of humour and extensive corporate experience make him perfect for any event. His abilities range from hosting an intellectual, political debate to giving an amusing speech about media and film, drawing on knowledge from his very own Oscar-nominated In The Loop.

Armando's book, The Audacity of Hype, published in early September 2009, demonstrates the spread of his interests and styles, whilst wonderfully "showcasing his skills for humorous invention" (The Independent, 28 August 2009).

As well as the obvious comedy themes that he can consider for an audience, Armando enjoys giving speeches that can, whilst staying light, take on more serious subjects. In the past, he has spoken about Europe, classical music, therapy, the arts and the future of television, to name but a few. He has delivered the Alternative McTaggart Lecture at the 2008 Edinburgh TV Festival, and he was Visiting Professor of Broadcast Media at Oxford University, delivering a series of lectures on Television comedy and New Media. He delivered the Tate Britain Lecture for 2006 and The Philharmonia Society Lecture of 2007.

Armando also shows a great interest in science and astronomy, IT, computers, internet, and new media. He can speak fluently on all of these subjects, making him an ideal after-dinner speaker for a broad range of events.

Armando has previously hosted a radio discussion show, and can chair corporate discussions and debates. He would also make the perfect one-to-one interviewer of significant figures in the corporate world. He can adapt his style and tone as appropriate, to suit almost any event. He often appears on straight political shows like The Daily Politics, This Week, and Question Time. In addition he has been a Guest Director of The Cheltenham Literary Festival, and was Chair of the Judges for the 2006 Costa Book Award.

Armando's vast experience in the corporate arena includes hosting conferences for Microsoft and BT, speaking for Samaritans, Royal TV Society, Deutsche Bank, Energis, The Treasury, the staff of the House of Commons, Scottish Business groups and MI5! He has also presented Awards for Advertising Industry, PPA Magazine Subscription, ACE Press Awards, Hedge Fund of Funds, Incentive Travel and Meetings Industry, Security Excellence Awards, and Building Communities Awards.

Testimonials

"Armando, many thanks for an excellent evening. It was pitched just right, was excellently researched and made a great 'impromptu' moment for us."
– Odeon Cinemas Annual Dinner

"I wanted to drop you a line and tell you how much we enjoyed Armando Iannucci's very entertaining and amusing speech at the AIC Dinner. It was very well written, topical and perfectly delivered. We all agreed that he was a very charming man and I know that many of the guests at the top table thoroughly enjoyed his company. Please extend our gratitude."
– Association of Investment Companies (AIC) Annual Dinner

"I just wanted to thank you, [Armando], for speaking at our dinner last week. We received great feedback from delegates who attended the dinner, so thank you for coming along and for being so entertaining."
– National Housing Federation Leader's Forum

"He was genuinely well received – by the end [Armando] had the audience whipped up into a mild frenzy with his sharp, intelligent sense of humour."
– Production Company, SMMT Awards
Contact us today if you would like Armando Iannuci to be the highlight of your event! The most memorable moments are waiting and they could be yours today!

Photos of Armando Iannucci
Book Armando Iannucci
Want to book a performer, or just find out more? Give us a call on +44 (0)208 8291140 or use our online contact form via the button below.