Aquajet – Arcade Game | UK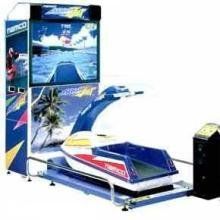 Use your high-powered jetski to race against the clock in this fast moving simulation. Impress the guys and gals on the beach with your amazing jumps over ramps and swerves around wrecked ships. Although you cant get wet playing this simulator, you will feel the power of the waves beneath your feet.
Width:105cm, Depth:285cm, Height:209cm.
Power:1000w.
Minimum access width: 105cm.
Access:
The game wheels on castors, we must be informed about any steps, stairs or lifts, short flights of stairs (1-10) can be negotiated with ramps. Longer flights are possible with a stair walker or with extra manpower. Games will go in most lifts however you must make us aware of lift dimensions. We can provide a drawing for you to fill in. The use of ramps and or extra manpower can incur a surcharge for delivery. These games are not designed for outdoor use, however they are suitable for marquees. We must be made aware if the games are to be moved on anything other than hard ground, we can provide boards to move them on soft ground.
Photos of Aquajet