45 Jive – Jive Band | UK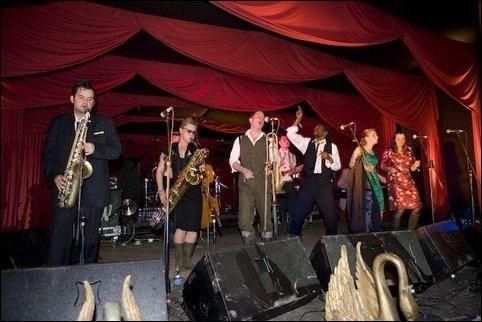 45 Jive are a Brighton-based, 11 piece jump jive band, swing band, and rock and roll band. Led by their charismatic vocalist, Dale, and a four piece horn section, 45 Jive are tight and full of high energy grooves.
The band's music is drawn from an era when big band jazz was reinventing itself as rock and roll; a high energy, lively, urban dance music brought back to life with swagger and attitude. The current set includes numbers by Louis Prima, Louis Jordan and Little Richard.
In the last 4 years, 45 Jive have toured in Ireland and the UK, headlining stages at Glastonbury Festival, the Big Chill, Shambala Festival, Spraoi Festival, and the Speigel Tent at the Brighton Fringe Festival.
Standard Length of Performance:
1 1/2 hours – in any set format.
Testimonials:
"There is something so invigorating about bopping to an 11 piece band…all the band members are pretty darn impressive. …You're not supposed to look at it. You're supposed to get up on the dance floor and boogie-woogie."
– Private Client
Photos of 45 Jive