Zim Zimmer – Comedy Acrobatic Duo | Wiltshire| South West| UK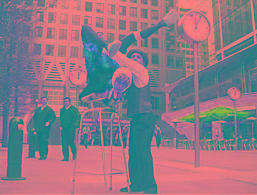 Zim Zimmer
Zim Zimmer is a humorous sketch about old aged pensioners. The story so far is that they have escaped from the home they have been sent to by their families. They explore the world outside enjoying their freedom like naughty children playing truant from school. This might involve going shopping, playing on the escalators, having a picnic, getting on the bus, sitting on a bench observing the local youth, and so on. They express their child like excitment by climbing on their walking frames and occasionally showing off with some acrobatic moves. They can also bring a ghetto blaster and have an impromptu tea dance that involves tea and dancing!
Standard Length of Performance: 3 x 30-45 minutes sets.
Testimonials:
"You were all very good and impressed the crowd. The event went very well and you all played a part in that success."
– Eventive
Previous Clients Include:
BBC
Bristol International Airport
Sky TV
Landrover
Bacardi India
MacArthur Glen Shopping Centres
Alton Towers Northern Leisure
Audi
Queens College
Rank Leisure
Faberge
Richard Branson
First Leisure
Golden Nuggets
Smirnoff
Holsten
UK St Johns College
Honda
The Egg
Kiss FM Radio
Tommy Hilfiger
Levi's
Virgin Trains
London Zoo
Wadham College
Mean Fiddler
Walt Disney Corporation
NMEC
Nortel Whitbread Hotels
Photos of Zim Zimmer
Book Zim Zimmer
Want to book a performer, or just find out more? Give us a call on +44 (0)208 8291140 or use our online contact form via the button below.