Twisty Tina – Balloon Modeller & Balloon Caricaturist | UK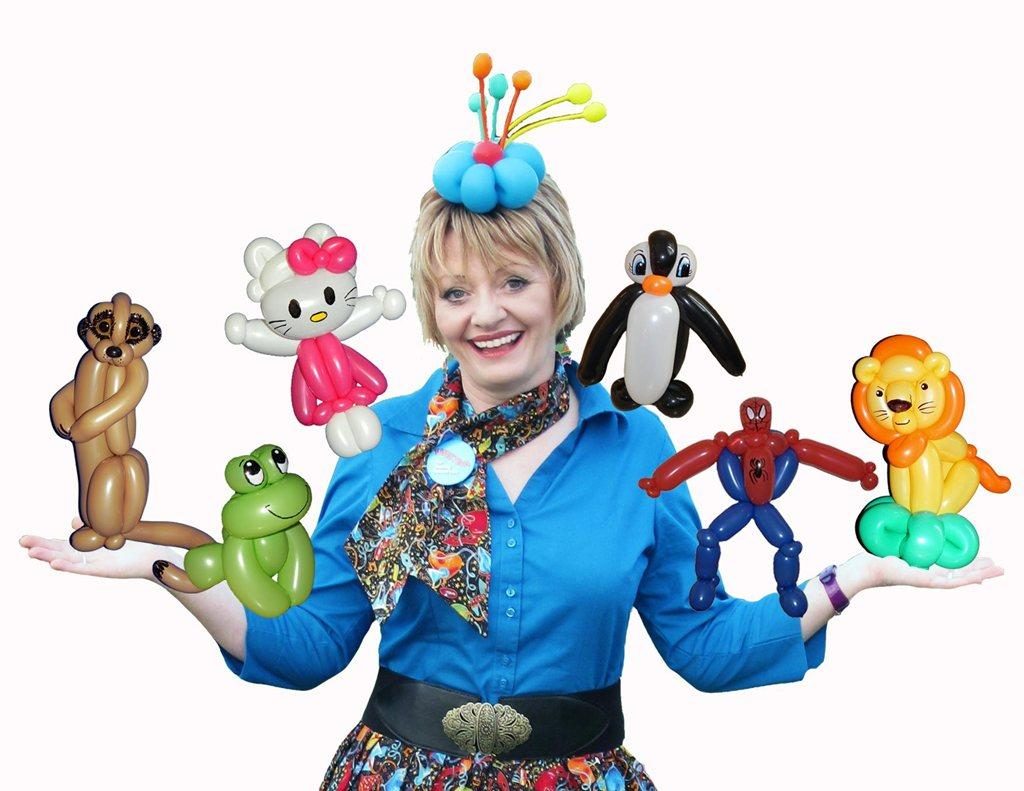 Twisty Tina
Twisty Tina is among the top balloon twisters in the UK and has won multiple international awards. She loves to create amazing sculptures and entertain with nothing but balloons, air and the odd marker pen. She will delight, astound and amuse adults as well as children, with her feats of balloon twisting, artistry and fun.
With her huge repertoire of colourful sculptures, she will show you her brand of balloon modelling has moved far beyond dogs and swords! Twisty Tina has featured on BBC Television's "Do Something Different" and in a commercial on Meridian Television for the Swanage Railway Company where she regularly appears.
Twisty Tina's high quality balloon creations enhance the whole atmosphere of an event, with a riot of colours and shapes in the form of amazing hats, whacky wearables, cartoon and character parodies, balloon jewellery, caricatures and cute animals. Cameras are always at the ready when she is around! Balloons can be themed to an event or company. Larger, more elaborate balloon sculptures can be provided for display or decoration. Balloon workshops and balloon art demonstrations are also available.
Twisty Tina can wear costumes according to the event – from smart, evening wear to colourful outfit or clown costumes for children. She is also available in Victorian costume should it suit the event.
Twisty Tina's husband Tony twist is also a stunning balloon artist you will be amazed at the spectacular balloon models, Tony provides entertainment for young and old creating anything from cartoon parodies to giant spaceships. Watch Tony twist wow audience creations and routines.
Twisty Tina can also create balloon caricatures.
Standard Length of Performance: 2 x 2,5 hours sets in a 6 hours period.
Testimonials:
"Twisty Tina was great again and a huge success with both the adults and children. The queue for balloons did not stop!"
– Air Tanker Services
"Consistently Brilliant"
– Kirklees Light Railway
"The kids love her because she is so colourful, funny and entertaining. I find Twisty Tina very innovative and able to improvise to deal with any impromptu situation, as often is the case when dealing with kids! She is down to earth, friendly, resourceful and full of great ideas. I intend to request Twisty Tina's services for many years to come – she brightens up our lives with her colourful talents and my daughter and her friends think she is fantastic. I wholeheartedly recommend her to anyone with kids (and adults!) to entertain!"
– National Britannia
"No matter what shape or design a child or adult requests Twisty Tina always meets the challenge with her amazing designs. Often you watch thinking that it is never going turn out but I've never seen her stumped! Twisty Tina designs everything from bunches of flowers to dinosaurs via swords and butterflies. She is always popular when she is on site."
– Barry Island Railway
"Please could you pass on my thanks to Twisty Tina for her balloon modeling contribution last Saturday at the RAF Brize Norton Families Day. All of the Air Tanker Services staff thought she was great and her rapport with the children (and adults) was superb. She attracted a large crowd through our tent and worked so hard throughout the day with her creative talents. I would highly recommend her to anyone in the future. I am most impressed with the service overall and will contact you should we require any entertainment in the future."
– Air Tanker Services
"Twisty Tina was very busy, and I loved the effort she had made with her costume."
– First Investments Ltd (via Contraband)
Previous Clients Include:
Rolls Royce
BBC Television
T Mobile
Oxford City Council
Comet Electrical
Iceland Food Stores
Swanage Steam Railway
The British Library
The Renaissance Hotel, Reading Bristol
Hot Air Balloon Fiesta
Kirklees Light Railway
Canary Wharf Shopping Mall
Photos of Twisty Tina
Book Twisty Tina
Want to book a performer, or just find out more? Give us a call on +44 (0)208 8291140 or use our online contact form via the button below.