Tenors Incognito – Singing Waiters | London | UK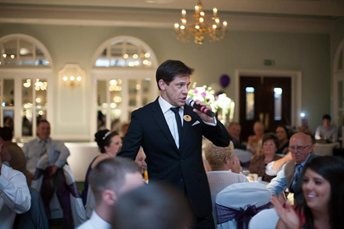 Geoff and Simone believed that the concept of singing waiters was successful worldwide by various different organisations. However they felt no one was capitalising on the idea to incorporate other characters in the subterfuge and deliver a totally unique, utterly compelling and exciting musical experience.
The duo felt an audience would be blown away if the functions entertainment was provided by people they believed were a good looking guest sitting beside them, or a security guard on the door, or a chef in the kitchen. They created the unique incognito element… which segued beautifully into choosing the name of the company and the Act – Tenors Incognito.
Tenors & Divas Incognito works by providing classically trained singers who pose as staff or members of the public at corporate dinners, conferences, birthday parties, weddings and/or sporting fixtures etc. Each impostor takes the microphone for an impromptu song, climaxing – as the perplexed audience gradually realises the trick – with the trio singing together in a stunning finale which gets everyone up on their feet.
No one around the world was doing a female version of anything remotely similar so Geoff and Simone jumped….and subsequently the fabulous Divas Incognito followed a year later in 2001.
As a result of offering both male and female singers, Tenors & Divas Incognito is able to provide a truly unique Act involving sexy, young and talented singers, either Tenors or Divas, or a mix of the two, in a special incognito performance package for corporate events and private parties.
Repertoire Includes:
Toreador
Pearl Fishers' Duet
Questa Quella
Be My Love
I Love You Baby
Fly Me to the Moon
Let Me Entertain You
Be My Love
Brindisi
That's Amore
Tom Jones Medley
Beatles Medley
Nessun Dorma
Sole Mio
Funiculli
Queen Medley
Big Spender (long)
All that Jazz
Diamonds
Fever
Fly Me to the Moon
I Love you Baby
Can't buy me Love
Crazy Little Thing Called Love
My Way
Tenors Incognito
Guaranteed to dazzle your guests and transform your event, Tenors Incognito is a successfully proven Act that involves three dynamic, young and talented, professionally trained male performers who masquerade as guests, security or catering staff and/or chefs. During the course of the evening they stylishly reveal their operatic and musical theatre vocal talents to an unsuspecting audience culminating in a stunning and memorable finale, a la The Three Tenors
Divas Incognito
Divas Incognito is the original female concept in the entertainment industry and involves three sassy and classically trained female performers who are also incognito at each event… like the Tenors they can masquerade as whatever is relevant to the particular occasion. During the function they reveal their operatic and contemporary vocal talents, presenting an arrangement of anthemic diva numbers to an unsuspecting and admiring audience, culminating in a show-stopping finish.
Tenors & Divas Incognito
Tenors & Divas Incognito mixes the best of these two shows for a totally unique and unforgettable experience. Melding the timeless elegance and class of opera with the fun and relaxed approach of musicals and popular music, Tenors & Divas Incognito is an unbeatable combination. Beautiful harmonious singing, charisma and visual appeal proves this Act is world-class and one of a kind.
Swing Incognito
The evening revolves around a femme fatale nightclub singer (Samantha…Sammy Davis) and her two 'incognito' accomplices Dean and Frank. The show is a stunning mix of popular swing hits, big band classics and the best of the Rat Pack. The Act's climax is a sensational and moving rendition of the immortal 'My Way' which, in true Tenors & Divas Incognito style, guarantees to leave you wanting more!
Dancers Incognito
Dancers Incognito is a truly unique and brilliantly choreographed performance for parties. Under the guise of a professional dancer a few simple dance moves are demonstrated to the audience with the help of a 'volunteer'. A passionate Flamenco solo, followed by a tap routine to rival Fred Astaire, and a Ricky Martin salsa leads into a feast of dance fever. This culminates in a mega-mix of dance and party hits from the 60s, 70s and 80s that will have the audience up on their feet strutting their stuff.
Fusion
Combining the best-loved repertoire across the five Incognito Acts, Fusion is a fun, high-energy and highly-interactive medley of music and dance guaranteed to captivate any audience. This sensational montage boasts six star performers and is creatively choreographed to entwine the popular genres of Opera, Swing, Dance and Rock (featuring popular musical theatre favourites such as All That Jazz and The Phantom of the Opera Duet to name a few) . As another self-contained headline performance, Fusion successfully caters for those already familiar with the Incognito concept while providing the extra WOW!.
Incognito Live
The Incognito Live show for indoor or outdoor concerts, vineyards, arenas, stadiums or special events is the culmination of our years of experience, expertise, talent and love of performing all put together in one fantastic full-length production. We take the audience on a unique inspirational journey through many of our favourite musical genres. We always value our strong connection with our audience so the aim of our show is that the audience has more fun than the performers – and we have a blast!
Bravo!
From the creators of the worlds first opera band Amici Forever, Bravo! is a stunning classical crossover quartet of two Tenors and two Divas who take to the stage at your party. They perform an uplifting collection of well known classical and contemporary pieces ranging from My Way and O Sole Mio to Unchained Melody and The Prayer. This powerful performance is a tribute to the likes of Amici Forever, Il Divo and Katherine Jenkins. Bravo! is the Act which turns your party into an awe inspiring show that will stay in peoples minds always.
"The most enormous THANK YOU, to everybody at Incognito who was involved. It was a stunning performance, just perfect, No one on the Bride's table dared to look at her [except me], her husband was literally holding her down. And when the 'waitress' left sobbing, several women got to their feet to try to comfort her!! I didn't believe the effect that Queen would have, interspersed with opera: couldn't believe that it would work so well. Thank you again, It was quite magnificent. Every single thank you letter mentioned it!"
– Private Client
"WOW. What can I say?! We had the most amazing day. Everything went to plan and your team were the icing on the cake. Tenors Incognito had all our guests fooled, including Phil and I, and everyone enjoyed the performance which was incredible, extremely entertaining and faultless. We are so glad we booked you as it made our wedding day truly memorable and we have received so many telephone calls, letters and thank you cards from our guests who all say that it was the best wedding they have ever been to and that The Three Tenors were unique, marvelous and unforgettable. We know that everyone will have such fond memories of our wedding. Once the performance was underway the atmosphere was electric, and this continued throughout the night. We would like to thank your team for making our wedding day so special and truly unforgettable."
– Private Client
"My wife and I were at a Wedding reception in Bristol last weekend, where two Tenors and a Diva materialised. They were absolutely fantastic and at the end received a well deserved ecstatic response from all the guests! The only topic of conversation when they had finished was their superb performance. I even heard one man in the toilet say that he would get them to perform at his wedding, all he needed to do was find the right woman!"
– Private Client
"I cannot express enough just how good Tenors & Divas were. Their performance was truly spectacular. It was lively, extremely high quality and a total joy! Also to my enormous surprise when we watched the wedding video we saw that they had actually been serving drinks for several hours before – or getting out in the crowd! Amazing! If anyone was hesitating about booking them you should refer them to these comments – they were worth every single penny and more. I would be deeply grateful if you could pass these comments on to them."
– Private Client
"I just wanted to write and say how amazing Divas and Tenors were at my wedding. I cannot tell you the effect it had on the pace of the wedding – it got the whole place rocking and ready for Mixed Feelings – the dance floor was then full all night. In every thank you letter people have raved about them and how fabulous they were.
You guys helped make my day very special and very unique as most people there had never seen or heard of anything like it before, so thank you and I look forward to seeing them again in the future as they are a really great and fun act – and worth every penny."
– Private Client
"My husband and I just wanted to pass on our thanks to the amazing tenors and divas who sang at our wedding. It was a complete surprise to everyone apart from my mum and uncle who organised it. It took me a few minutes to work out what was going on when the waitress, chef and the catering manager starting singing in the middle of the wedding breakfast! They got everyone up on their feet dancing and it really was a truly amazing day. They really lifted the whole mood of the day and I would recommend them to anyone. We cannot thank you enough for making our day truly wonderful."
– Private Client
"Oh my god I don't know what to say other than they were amazing. It's all people have spoken to me about since. They were all so very talented and professional, it was great to watch them masquerade as part of the waiting staff knowing that our guests were about to receive the biggest surprise ever! It worked well because someone came up to me and said as they were performing you wanted your wedding day to be remembered, and no-one will ever forget it, this is amazing."
– Private Client
"I would like to Thank you for an absolutely stunning performance at our national Sales Conference. Their delivery and presentation was thoroughly enjoyed by all and it really did help make the evening a roaring success. How we will top this in the future, I have no idea! Once again, thank you. They were truly brilliant.""
– Private Client
"I am writing to congratulate the superb performance of lncognito during our event at the London Heathrow Thistle Hotel. Not only was their performance first class leaving the stage with a standing ovation, but they arrived on time, went through their sound check smoothly and acted professionally at all times which made them a pleasure to work with. My client was over the moon on the night and we had nothing but very positive comments from guests who were raving about lncognito throughout the evening. I would highly recommend this brilliant act to anyone, as they not only appeal to all ages but also know how to include their audiences so they feel part of this completely. It was smooth, slick and very entertaining undercover singing act. I look forward to working with lncognito in the near future."
– Private Client
"I just wanted to drop you and the team a quick note to thank you on behalf of everyone here at the Association for such a fantastic performance. The Tenors and Diva team were fab and really got the crowd going. I've heard nothing but brilliant feedback ever since and I don't think we would have made nearly as much in the auction if you guys hadn't got everybody warmed up. They truly were amazing! Please pass my sincere thanks on to everyone involved. I'll be in touch again soon for our next event."
– Private Client
Photos of Singing Stars
Book Singing Stars
Want to book a performer, or just find out more? Give us a call on +44 (0)208 8291140 or use our online contact form via the button below.