Spanish: Synergy Duo – Spanish Vocal & Guitarist | Staffordshire| West Midlands| UK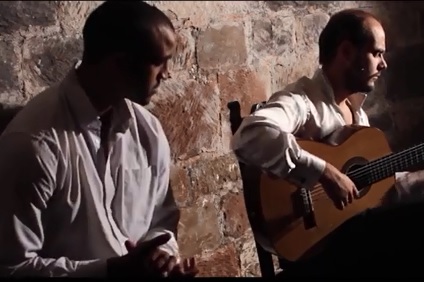 The Synergy Duo
Synergy are a vibrant guitar and voical duo from southern Spain. They bring the passion and drama of Flamenco to their mixture of Latin based songs and instrumentals. Their music combines original material influenced by their stay in the UK with traditional material from Spain and South America.
 
Synergy's singing (in both English and Spanish) is beautiful, and they produce the most natural and close of harmonies. Their guitar playing is fiery and complex, it features awesome traditional Flamenco pieces and exotic driving accompaniment. The highly rhythmical style employed moves from irresistible Rumbas and Tangos to complex Andalusian tempos.
Juan Casals Mendoza hails from Grenada where he has taken lessons from the some of the very greatest Flamenco tutors. He is not only a wonderful guitarist but is also a accomplished vocalist and composer.
Glenn Phillips was raised in Alicante but shares routes with the UK. He is the lead singer. His songs are composed in both Spanish and English, he has a fantastic voice that is both powerful but sweet. Glenn also plays the Cajon (a Peruvian percussion instrument) which brings a more energized dynamic to Synergy's music.
Their live show is presented with upbeat humour and anecdotal song introductions. Juan and Glenn's energy is contagious and they are always accommodating and accessible with their audiences.
Testimonials:
"We all absolutely loved having you come to Oundle School. You interacted so well with the kids immediately picking up on the energy levels and interests of the groups that varied widely according to their ages and the sizes of the group. We really loved the interaction and the way you involved the pupils. You have inspired them all."
– Oundle Private School
"Fantastic music, entertainer and people! They bring joy and smiles to our events, and it's a pleasure working with them."
– ICHF Event
"The Festive Gift Fair is a busy annual Christmas consumer event held at the NEC, Birmingham. For the last three years, we have, by popular demand, invited Synergy to entertain the crowds with a combination of Christmas music and their own. Always a pleasure to work with them, so very talented, stylish and professional."
– Orchard Events Ltd
"Just a note to say we were so impressed with the acts you provided!…..The duo were also great! They arrived eager to please and roamed through the audience playing some great tunes. The whole place was alight! We would definitely look to use all these guys again!…"
– The Outlook Creative Group Ltd (via Contraband)
"I just wanted to say how much we have just enjoyed Synergy on Saturday night. Great guys with a brilliant outlook coupled with their excellent talent, made the whole event amazing. Their music was so good that throughout the night my guests were all asking about them!…Please pass on my thanks to them both and I will be contacting you again if we are in the market for another band and at the very least recommending you."
– Private Client (via Contraband)
Previous Clients Include:
ICHF
Orchard Events
Grosvenor Hotel
Superdry
National Trust
Vintage Inns
Rural Turing Scheme
Tuscania Music Festival
Oundle Private School
Photos of The Synergy Duo
Book The Synergy Duo
Want to book a performer, or just find out more? Give us a call on +44 (0)208 8291140 or use our online contact form via the button below.