SAS – Pavement Artists | Pavement Artists | UK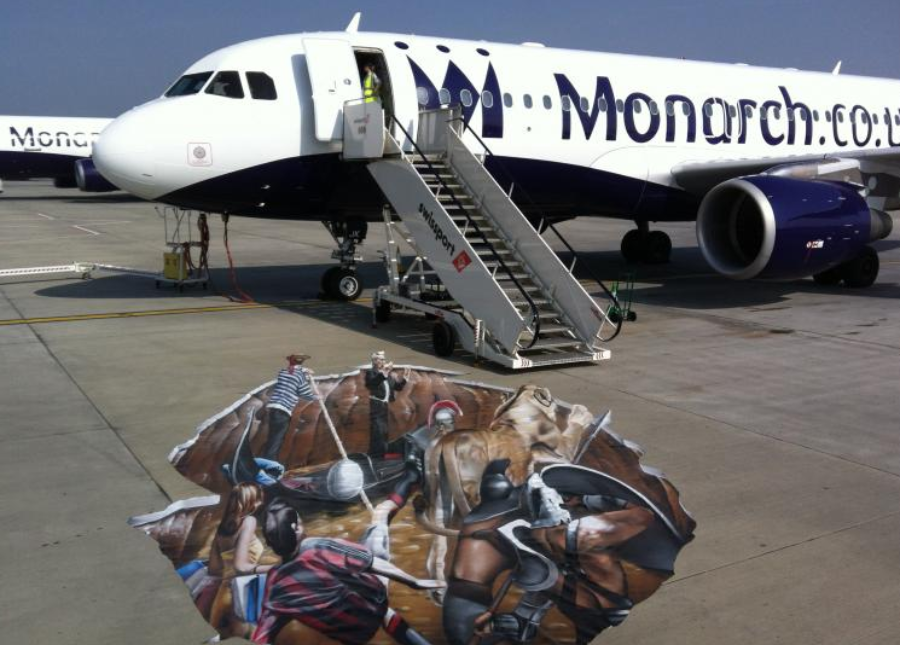 SAS pavement artists can take your product to your customers' feet. They can create 3D chalk drawings on pavements and most surfaces, indoors or outdoors, walls or floors. They have some jaw dropping designs that stop consumers in their tracks. This is a highly effective media for creating excitement about your product – a lot of people take pictures on their mobile phones and the adverts then go viral!
3D Pavement Chalk Advertising
Have two artists re-create your product or brand logo or service on to any smooth surface using chalk drawngs. 3D Street Advertising stops consumers in their tracks. A lot of people take pictures on their mobiles and the adverts then go viral. A highly effective media for creating excitement for your product.
Pavement work can be drawn directly onto the pavement or onto canvas. The canvas fixes via double sided tack tape, so leaves no marks or mess behind and very easy to get it up afterwards. The canvas remains as the client's property afterwards. The chalk artists can re-create your brand or advert in full colour 3D on almost any surface from pavements to walls. SAS can even create a design and move it to a new location, thus giving your brand maximum exposure in high footfall locations such as shopping centres.
SAS can create lots of buzz and publicity for your products, and their clients have been delighted with the responses.
Optimum area required for a picture is 2.5 metres by 5 metres.
Testimonials:
"It worked a treat, we got a massive reaction from agents which just proved the campaign had worked! SAS stencils generated fantastic talkabout among the exact audience we were after – homeowners going into estate agents to sell their house! From Day 1 of the brief, the SAS team totally got what we were trying to do, and worked really hard to help ensure the guerilla street campaign was a success. They are real professionals and will go the extra mile at every length to ensure that the activity is a success and the client is 100% happy. All in all, I can't recommend the team highly enough and the street activity was excellent value for money."
– Lexis PR
"SAS shook up Belgium with their street advertising! Using their unique technique not only attracted customers to our branches, ING got loads of free publicity thanks to the creative way of advertising. A first in Belgium! For me SAS stands for a professional, flexible, dedicated, easy-going company, doing everything it takes to meet the customer's needs, at any time, at any place…"
– ING Bank
"'We used SAS to direct our customers from Picadilly Train Station to our chosen venue for a live music event we were holding. Not only did the adverts look fantastic but a lot of our customers commented on them too. To summarise, SAS were brilliant to work with and we loved the product and will definately use them again for another event."
– Budweiser
"SAS not only understood the requirement but worked with us on the creative brief for the artists. It was a true partnership all the way through and the 3D designs they produced not only wowed the crowds but also our client. The icing on the cake was a decision to upload pictures of crowd members interacting with the artwork onto Flickr and to create backlinks through to the promo website we'd produced. More than 600 people visited the Flickr site to see pictures of themselves over a 2 week campaign period. It was also a natural attraction for local press, with colour picture spreads in all major regional newspapers across the campaign areas. Street Art provided a fantastic communication platform on all the right levels, a real crowd puller on the day, a focal point for printed media column inches and a foundation for longer shelf life coverage and reach via social media and online website use. Plus Max and Kristian were great to deal with."
– Deviate
"…The 3D floor art was fantastic. Got so many good pictures. Again the guys were lovely and really made an effort with the visitors to the show. I don't think the majority of the visitors had seen anything quite like it so it went down very well…Please pass on my thanks to the team…"
– Farnborough International Ltd (via Contraband)
Previous Clients Include:
The Conservative Party
ING Bank
Camelot
Disney
Nike
Puma
Carphone Warehouse
Budweiser
Jim Beam
Kia Cars
Roche
Mike Lynch
Body Shop
English Heritage
Auto Trader
Magnum
Hyundai
British Gas
Ikea
Camden Lock
SAS are pavement artists in the UK, perfect for privates parties, university ball entertainment, company summer party entertainment, corporate party entertainment, corporate event entertainment, office party entertainment, high end entertainment, drinks party entertainment, awards dinner entertainment, award ceremonies, special events entertainment, hotel residency entertainment, nightclub residency entertainment, shopping centre entertainment, product launches, exhibition stand entertainment, sporting entertainment, conference entertainment, international event entertainment.
Photos of SAS