Rockabelles – Singing Show | Essex| Eastern| UK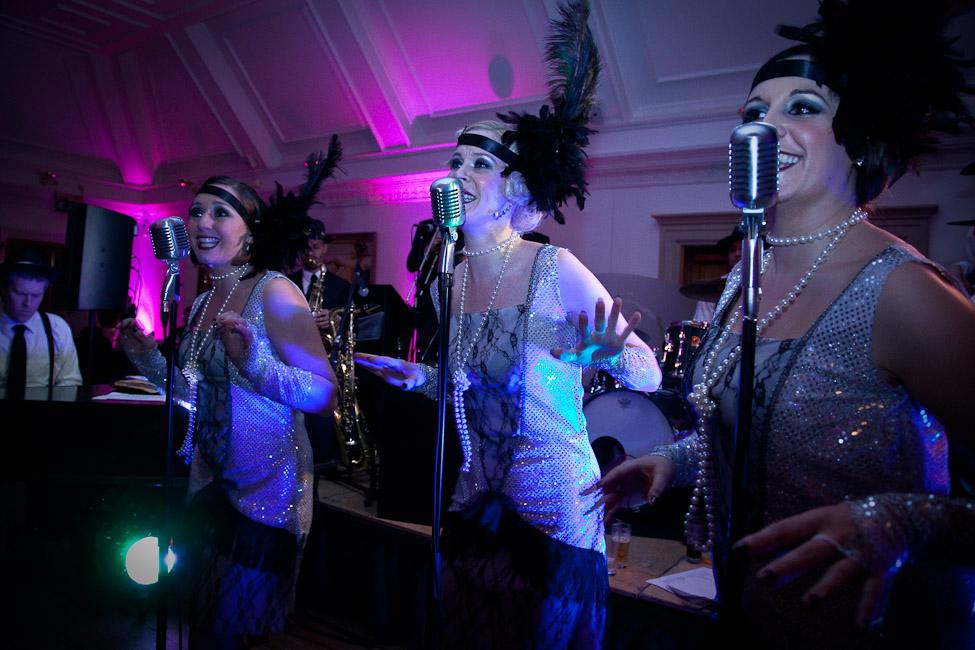 Rockabelles
With killer heels, killer curves and killer harmonies, the Rockabelles have been called to the musical front line to lift the spirits of ladies and gentlemen all over the world. Dressed top to toe in pin up couture, they perform a stunning repertoire of nostalgic music to the backdrop of beautiful bespoke backing tracks, a simple jazz quintet or even a full 14 piece big band.
Whether it's a small underground club (Cellar Bar, Covent Garden), a high end corporate affair (Barclays, UBS, JD Sports), a large public event (Bury St Edmunds Christmas Fayre) or an intimate private party (Mr & Mrs Jones from no. 5), the Rockabelles have been there, done it and worn the pencil skirt.
From toe-tapping singalongs from the wartime songbirds (Vera Lynn, Doris Day, Anne Shelton, The Andrews Sisters etc) to floor-fillers from more recent chart toppers (Kylie, Beyonce, The Beatles etc), they beat every song into submission with their retro sticks, singing everything with the glamour and grace of the 1940s. With their a capella walkabout set and after-show mix and mingle options, they are a very flexible act in terms of budget, space and pa requirements. Ideal for a diverse range of events including garden parties, military engagements, private parties, corporate events, vintage weddings, nostalgic dances and theatre appearances, they really do offer something for everyone. And whether it's Vera or Verve, Elvis or Ella, the Rockabelles have just one philosophy: "It Don't Mean A Thing If It Aint Got That Swing!
Set times: Up to 2 x 40mins playback or up to 30mins 'a capella'.
Costumes Available Include:
Sailorettes
Peep Toes, Pencil Skirts and Corsages
Military Uniform
40's Evening Gown
Christmas Couture
Testimonials:
"I am writing to let you know how much we all enjoyed your performance at the country club last week. Despite the fact that none of our party was around at the time of the Andrews Sisters, the act is so evocative of the era it instantly recreates the atmosphere of the old Hollywood films we have all seen, so we instantly loved it. The styling and costumes were spot on and the intricate close vocal harmonies were a foot tapping joy! The set delivered a perfect and popular contrast to the rest of the music on that night, and I am sure we will be seeing you again very soon. Congratulations"
– Private Client
"Thank you so much for all your efforts last night! Your singing was wonderful and the act brilliant. Very cheering on what was a hideous night weather-wise! …. It would be just wonderful if you could sing for us at future events, you are such crowd pullers! Thanks again for your generous contribution to the Teenage Cancer Trust."
– Teenage Cancer Trust Volunteer
"Thanks so much for the fab performance The Rockabelles gave to our fundraising night. You guys were totally awesome and we have had so much great feedback about you. We managed to raise £23,618 – which was an amazing amount of money and you guys added so much to the success of the night. I was very impressed with the slickness of your performance and the sound was unbelievable. Thanks so much for your efforts."
– Private Client
"Meant to email you to say thank you so much for last night. We thought that the Rockabellas were great and would certainly recommend them to anybody having an event."
– Christopher Place
"Sorry to have missed your full performance yesterday. I did however see the last 5 minutes and I thought it was superb, I have given a quote to the East Anglian today as they asked for my highlights and I mentioned your group. You were extremely professional and worked very hard with the crowds. Looking forward to your performance during National Armed Forces Week."
– Bury St Edmunds Christmas Fayre
"You girls stole the show, and that's saying something when you are meant to be the star of it yourself! Looking forward to featuring you again in the autumn."
– Andy Mawbey's Fabulous Vegas Event
"Will definitely be using you again soon as you have Jack's two favourite qualities – being talented and being hot!"
– Madame Jojo's
"The Rockabelles were charming and excellent; the audience was not easy but appreciative. Looking forward to working with them again."
– Motivation, Switzerland
Previous Clients Include:
HQ & Central Sergeants Mess
Teenage Cancer Trust
Help for Heroes
Epsom Ladies Day
Sweet Charity Candyball
Great Ormond Street Hospital
Swarovski
The Metropolitan Police Sports Club
Peterborough's Heritage Festival
L K Bennett
Cellar Bar
Barclays
UBS
JD Sport
Bury St Edmunds Christmas Fair
Repertoire Includes:
42nd Street
A Tisket A Tasket
Alexander's Ragtime Band
As Time Goes By
Beat Me Daddy, Eight To The Bar
Boogie Woogie Bugle Boy
Can't Buy Me Love
Candyman
Chattanooga Choo Choo
Cheek to Cheek
Christmas Polka
Come Fly With Me
Crazy In Love
Diamonds are a Girl's Best Friend
Don't Sit Under The Apple Tree
Dream a Little Dream of Me
Get Happy
Goodnight Sweetheart
I Got Rhythm
In the Mood
It Don't Mean A Thing If It Aint Got That Swing
Lay Down Your Arms
Little Girl from Little Rock
Lullaby of Broadway
Mr Sandman
Orange Coloured Sky
Santa Baby
Sisters
Stardust
Stuff Like That There
That Old Black Magic
The Beer Barrel Polka
The Locomotion
Tuxedo Junction
Valerie
We'll Meet Again
Photos of Rockabelles
Book Rockabelles
Want to book a performer, or just find out more? Give us a call on +44 (0)208 8291140 or use our online contact form via the button below.