Olympic Circus Show | Hertfordshire| Eastern| UK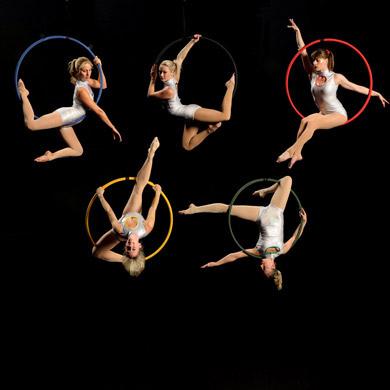 Olympic Circus Show
A unique entertainment circus specifically designed, choreographed and coordinated for events leading up to and during the London 2012 Olympic and Para-Olympic games. The entertainment package consists of a mix of some of the UK's top entertainers and consists of different genres. The package consists of ground acrobatics, aerial performance and street sports artists. Delia is one of the main performers in the show. She is on our website and performs hula hoop, acrobalance, aerial and contortion.
Most shows can be performed both indoors and outdoors. There is also the option to choose just a few acts from the package, to make a bespoke package, to suit your event.
Artists Available:
Ariel acrobats (hoop, silks, harness or trapeze)
Contortionists
Tumblers
Rhythmic gymnasts
Hula hoop artists
Hand to Hand acrobats
BMX flatlander
Football Freestyler
Break dancer
Street dancer
Power riser
Interactive tennis stilt walkabout
Standard Length of Performance:
The full package lasts between 10-40 minutes, depending on what best fits your event. Most shows can be performed both indoors and outdoors.
The Olympic Ring Show
Also available is the 'The Olympic Ring Show'. The show starts with atmospheric music to introduce all four acts, and they will slowly come together with movements, balances and dance. They will perform a group trick at the end of the piece. The show includes contortion, hula hoops, Olympic rings, a ball and ribbon act and gymnastics, to up and down tempo music. The hula hoop girl will then do a grand finale trick with around 20 hoops around her body. The four girls will then all perform a trick with a hoop and come together to make the Olympic rings symbol whilst all in a final pose.
Standard Length of Performance:
The full duration of the show will be 20 minutes.
Testimonials:
"We absolutely loved Delia. All performers were superb, and it helped make our night an absolute winner. I'll definitely be coming back to you in the future for other entertainment."
– Hillsong Church
"That was great. She was very good, and she did well with the elements. She adapted the program to the vibration and to each carriage. I've had great feedback from guests who were amazed by Delia. Honestly I have only positive feedback to give you. I thank you and Delia."
– Ballwatch
Previous Clients Include:
Toni & Guy
The Royal Albert Hall
Swamp Circus Theatre
Virgin Mobile
NEC
Nottingham Arena
Wembley
Rolling Stones Concert
BMW
Levis Twisted Jeans
Hilton Hotel
Grosvenor House
Asprey and Garard
Selfridges
Christian Dior
Wella Hair
Ballwatch
Hillsong Church
Langham Palace Hotel
Renault Espace
Britvic Orange
Singapore Technologies Engineering
Nike
Orient Express
Pink Floyd
Body Beautiful
Cannes Festival
Glastonbury Festival




Photos of Olympic Circus Show
Book Olympic Circus Show
Want to book a performer, or just find out more? Give us a call on +44 (0)208 8291140 or use our online contact form via the button below.