Mexican: The Mariachi Band | UK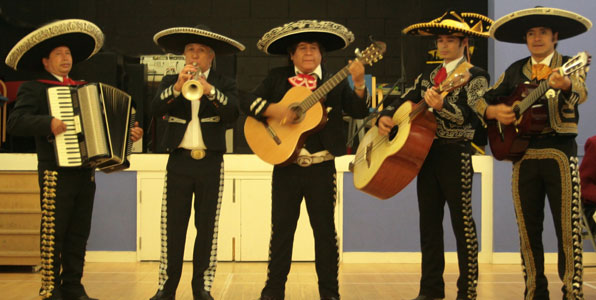 The Mariachi Band are a fantastic classic Mexican Mariachi ensemble, who bring excitement and joy to corporate events and private functions all over the UK and abroad. Their amazing costumes and fun stage presence always puts a smile on peoples faces. They make a big impact at any event!
Born in the neighbourhood of the 'Plaza de Garibaldi' – famous worldwide as the home of the Mariachis in the heart of Mexico City, Pablo grew up living and breathing the wonderful and exciting music of the Mariachis known as 'Ranchera' music. He formed the band through this passion for music and it has become a huge success.
Technical Specification:
The band will need a changing room and refreshments. They can provide their own PA if needed. If the client is providing the PA, they will also need to provide a sound engineer.
Standard Length of Performance:
The band perform 2 x 45 or 3 x 30 minute sets.
Testimonials:
"Just to say a massive thank you to you and the band last Friday! You were totally awesome and the bride and groom loved the vibe. The tunes you chose were awesome and the extra bit at dinner was sublime. I hope we see you again in the future and I can promise you I will recommend you to everyone I know! Many thanks again."
- Private Client
"I just wanted to thank you so much for playing at the wedding on Saturday. We did not tell anyone that you were going to be there so it was a lovely surprise and everyone thought you were great. Thank you for making a special day even more special and I know it will be talked about for years to come. Very best wishes."
- Private Client
"The boys were fantastic. Just what our Editor wanted.....They were very flexible and nothing was too much trouble for them. I hope they enjoyed themselves and many guests remarked on their performance – it turned out to be a great idea on such a warm evening and would certainly recommend them to anybody else. Thank you for your patience and understanding regarding the booking process – it was a pleasure working with you."
- Private Client (via Contraband)
Photos of Mexican: The Mariachi Band