Marc – Illusionist | Nottinghamshire| East Midlands| UK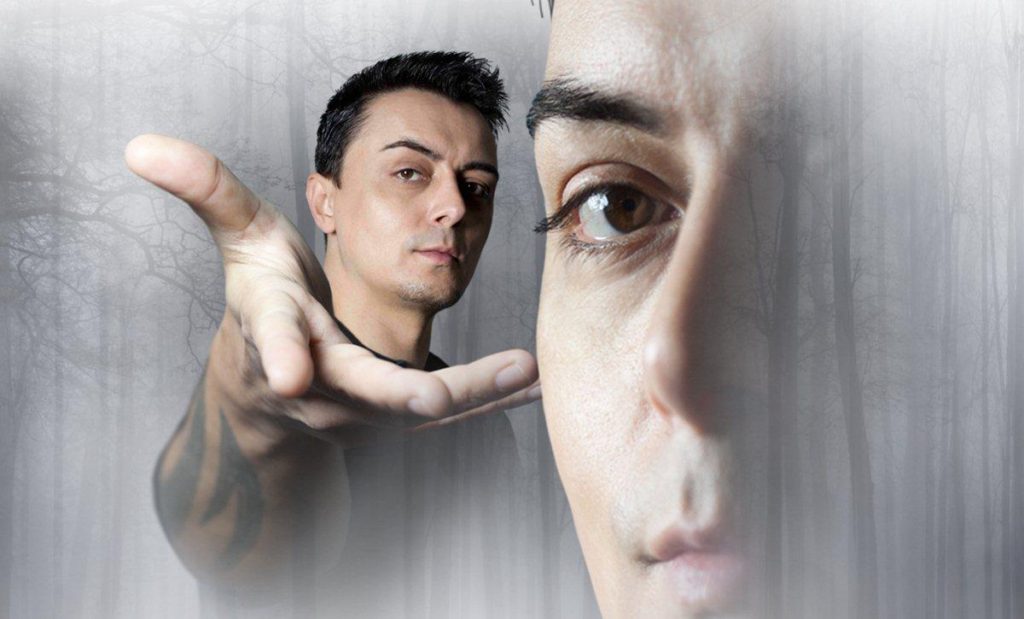 Marc
Special effects usually only seen on the screen are here to be experienced in three dimensional reality. You are invited to lose yourself in the twilight zone that is the surreal world of The Wizard.
A carnival of creatures joins him on stage. Fish swim in mid air, huge butterflies float and ancient dragons roar. Spectacular floating shapes fragment and reform.
A star expands filling the stage and a thousand points of laser light spin intricate patterns through the darkness. The Wizard's face flies off and disperses into hundreds of pieces. He rises majestically off the ground and a twenty metre snake of pulsing coloured light shoots from his mouth.
Magician Marc has previously been flown to Monte Carlo where he was invited to perform his highly acclaimed UV show. Colourful ingenious and unique, this act breaks language barriers in a special flourish of raw colour.
He's the guy who can make fluorescent pink fish fly, transparent female skeleton dance, masks jump from one face to another and ghostly illuminated figures rise and rest in midair. He's not Uri Geller nor Paul McKenna, although he does admire them, he's Marc – The Wizard an ultra violet illusionist and probably the only person capable of capturing the full and silent attention of a club packed with up for it ravers.
Very little is new on the dance scene these days and when it is, it is immediately imitated by all the others. We've all seen the bands, all heard the DJs, all been to the top clubs and sampled the atmosphere.
Everyone keeps talking about Marc, The Wizard, and the rave illusionist who has taken the Irish scene by storm, we thought it was time to investigate. The Wizard has filled all the top Irish clubs, Charlie Heggarty's, Kelly's, Circus Circus, etc. and has built up such a reputation in the province that he sits alongside Ultra-Sonic, Q-Tex and The Rhythmic State, the biggest crowd pulling names.
The whole spectacle of Marc's show cannot be described it has to be seen, and even then you won't believe it. No wires, no hoists and no matter where you sit you won't work it out. You'll see the lovely girls dancing on stage then – Whaw! Their heads jump six feet in the air leaving their bodies to continue moving to the music. Then the lights go out and all of a sudden a neon green serpent twisting and turning in midair. This is followed by an orange demon from hell…
Marc can also perform stand up (classic) style magic. His acts are headline shows on several top cruise lines, Seabourne, Cunnard, Holland America, Silverseas. Additionally, Marc also performs strolling magic.
Standard Length of Performance:
The performance lasts between 8 and 9 minutes.
2 x 45 minutes stand up (classic) style magic.
Technical Specification:
Marc will need a cd player with a sound system and darkness (as dark as possible). An area of minimum 5 metres wide, 3 metres deep and 2.5 metres high.
Testimonials:
"Thank you for the most superb performance you gave for us at Christmas time. It was quite obvious that you held the room totally spelbound with the show."
– Bentley's Entertainment
"I just want to put in writing my gratitude for the excellent entertainment you provided at our company's celebration dinner at Sudeley Castle in Gloucestershire last week. We thought we had set ourselves a hard task in looking for an act that would be excitingly different, would offer an element of surprise, would appeal to people of all ages and backgrounds, and would help make our function memorable for our guests. In the event, you fitted the bill perfectly and I was absolutely delighted with the outcome."
– DMS
"Thanks again Marc for a very professional and top quality act that perfectly complemented the corporate image we were looking for. I wouldn't hesitate to use you again or to recommend you to anyone looking for a "hook" to capture attention for their business and/or to provide entertainment for clients.
– Bank of Scotland
"There is no doubt that our delegates were very impressed indeed by your skills and expertise – we have had so many complimentary comments. Thank you once again for helping to make the day into such an enjoyable and memorable experience."
– NHS
"Marc really threw himself into helping to make our event a success and was a real pleasure to work with. And I still don't know how he makes the £5 note hover above his hand like that!"
– Dunnhumby
"We had an audience of over 100 demanding guests, many of them distinguished, some deeply steeped in the entertainment world. I can honestly say that your show was universally admired. We had so many unsolicited complimentary comments that it is difficult to sum them up. I thought your performance was highly original, quite different from any magic show I have ever seen, and most impressive."
– Lady Allison Kremer
"…Marc: – fabulous act, great illusionist. Had the crowd mesmerised – extremely professional. Marc was brilliant…."
– The Antony Nolan Trust (via Contraband)
Previous Clients Include:
NHS
Bahco
Bentley's Entertainment
DMS
Bank of Scotland
Professor Rubik
Merriman
Business in the Community
Action
Quaglino's
Photos of Marc
Book Marc
Want to book a performer, or just find out more? Give us a call on +44 (0)208 8291140 or use our online contact form via the button below.