All That Malarkey – Classical Cabaret | Cardiff | Wales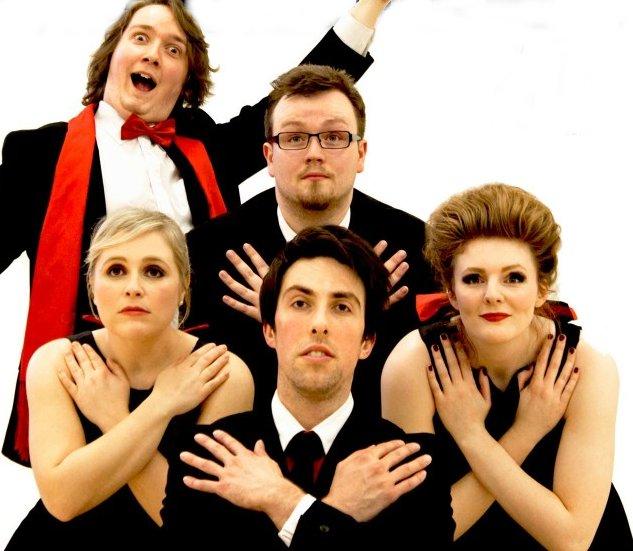 All That Malarkey
All That Malarkey are a strikingly original and entertaining vocal act combining opera, pop and comedy. A Classically-influenced vocal ensemble, All That Malarkey (ATM) is a group of young singers who specialise in blending beautiful voices and unique arrangements in a collision of opera, pop and comedy. Entertaining, sophisticated and wildly funny, the result is a classical cabaret fusion that adds a memorable, uplifting and high-quality element to any event. They are available to hire for corporate parties, balls, product launch parties, film premieres, anniversaries and weddings. These corporate entertainers really know how to get people on the dance floor!
Fast becoming known for their witty and strikingly original classical interpretations of famous songs from a broad range of genres (from Gershwin to Gloria Gaynor and The Beatles to Bruno Mars) ATM is produced by their dynamic MD/pianist ("reminiscent of some bizarre Jools Holland and Stephen Fry fusion"), David George Harrington, who has recently arranged music for Katherine Jenkins and has produced work for the BBC."

Standard Length of Performance:

All That Malarkey are available for a variety of set durations –
20-30mins set
45 mins-1hour set
2 x 45mins acts with interval (full show)
Programme is always prepared to order based on repertoire list and requests. All performances are semi-staged and compered energetically by the Musical director/pianist.

Testimonials:

"Tight harmonies…bags of energy…four dangerously good singers, with a hilarious MC and pianist…thoroughly appealing and professionally hilarious."
– Three Weeks Review (Edinburgh Fringe)

"All That Malarkey have developed, in my view, a unique approach to cabaret. Borne of a genuine love of musical theatre and contemporary pop, their performances embrace the audience with their skill and enthusiasm yet
provide a sharp edge that delivers the unexpected. A background of Classical music discipline shines through their highly professional approach to their work. I cannot recommend All That Malarkey highly enough!"
– Andrew Miller (Head of Creative Programming, Royal Welsh College of Music and Drama)

"All That Malarkey are an exceptionally talented group that have performed for us at two of our events. Our guests thoroughly enjoyed their original and amusing performances and we will certainly be booking them again for future
events. Cannot recommend them too highly."
– Royal Navy and Royal Marines Children's Fund

"Thank you so very much to ATM for providing the entertainment at the Sheep's Heid Dinner last night. Your professionalism made organising the event so much easier for me. The playlist suggestions worked a treat and the
energy, which reverberated around the room, will go down in the history of the Incorporation of Wrights in Glasgow. In his concluding remarks our Deacon said it was the best entertainment he had experienced at House events, which
is high praise indeed, especially as he played at his own dinner 2 years ago! I'll remember the evening for many years to come and if doing it again, I wouldn't change a thing."
– Jenny McIntyre (Collector, The Incorporation of Wrights, Glasgow):

"Bold, striking and oft humorous interpretations of classic songs…wide ranging repertoire….expertly performed and acted out by this youthful and energetic ensemble"
– David Owens (Wales Online)

"I have had the great pleasure of knowing and working with 'All That Malarkey' for over two years and I think that they are a most talented and unusual group of young singers. Their work is not only of the highest standard musically but also very original and full of wonderful humour. I have enjoyed watching them develop into very sophisticated and highly entertaining performers."
– Roger Redfarn (Ex-West End Director/Producer)
"Cabaret, comedy, classical music, bonkers behaviour…bloody brilliant!"
– Karen Price (Arts Editor, Media Wales)

Previous Clients Include:

Wales International Academy of Voice, Cardiff
Wales Millennium Centre, BBC Hoddinott Hall
Royal Navy and Royal Marines Children's Fund
Leeds Castle, Kent
St. Paul's, Covent Garden
Aldingbourne Trust
Goodwood House, West Sussex
National Hotel, East Sussex
House for an Art Lover, Glasgow
The Incorporation of Wrights
Trades Hall, Glasgow
Royal Welsh College of Music and Drama, Cardiff
Richard Burton Theatre
Firing Line
Cardiff Castle, Cardiff
Cottiers Theatre, Glasgow
Paget Rooms, Penarth

Repertoire:

MEDLEYS including…

Dreams Medley (Mr. Sandman, Sweet Dreams, Dream A Little Dream Of
Me)
I Want To Hold Your Hand (The Beatles, various)
Hero Medley (Holding Out For A Hero, various)
I Will Survive (I Will Survive, Ain't No Mountain High Enough)
Billionaire (Comedy, various)
Novello Awards Nostalgia (Bohemian Rhapsody, As Long As He Needs
Me, Goodness, Gracious Me, various)
Novello Awards Popular (1990's-2010 Pop, Cher, Scissor Sisters, Kylie
Minogue etc.)
Abba Medley (Mama Mia, Waterloo, Dancing Queen, various)
SKETCHES including…
Ugly Duckling; Modern day twist on the much-loved fable
Disney Princess Malarkey; Disney gave us unrealistic expectations about
love
Small Talk; The social awkwardness of small talk, "Good Morning, Good
Morning" Singing in the Rain, various
STRAIGHT SONGS including…
Ain't No Sunshine
Feeling Summertime (Feeling Good, Summertime)
The First Time Ever I Saw Your Face
White Flag
The Power Of Love
No Other Love
Run
My Funny Valentine
Abide With Me
Oklahoma
Valerie
Full Show commissions:
All That Malarkey: Classical Cabaret Stage Show – Standard show, featuring a selection of core repertoire. Programme choices devised by ATM and/or client (see set durations above)
All That Christmas Malarkey – 2 x 45mins with interval Including: White Christmas, Fairy Tale Of New York, O Holy Night, 12 Days Of Christmas, I Saw Mommy Kissing Santa Claus…
Glamorous Nights: A Tribute to Ivor Novello – 2 x 50mins with interval Including: My Dearest Dear, We'll Gather Lilacs, Someday My Heart Will Awake, And Her Mother Came Too…
Once Upon A Teapot: Children's Show – 50mins no interval Including: Mad Hatter's Tea Party, Disney, Musicals, Kids TV Theme Medley (Arthur, Spongebob Squarepants, Pokemon, Scooby Doo, Doctor Who, Horrible Histories, Tracey Beaker, Fairly Odd Parents, Adventure Time) Frozen "Let It Go"…
LGBT Celebration show – 2 x 50mins with interval Including: Elton John, Dusty Springfield, Queen, Lady Gaga, Village People, Abba, George Michael, The Weather girls, Over the Rainbow, True Colours, Defying Gravity…
Photos of All That Malarkey
Book All That Malarkey
Want to book a performer, or just find out more? Give us a call on +44 (0)208 8291140 or use our online contact form via the button below.