Luisa – Caricaturist and Digital Caricaturist | Cambridge| Eastern| UK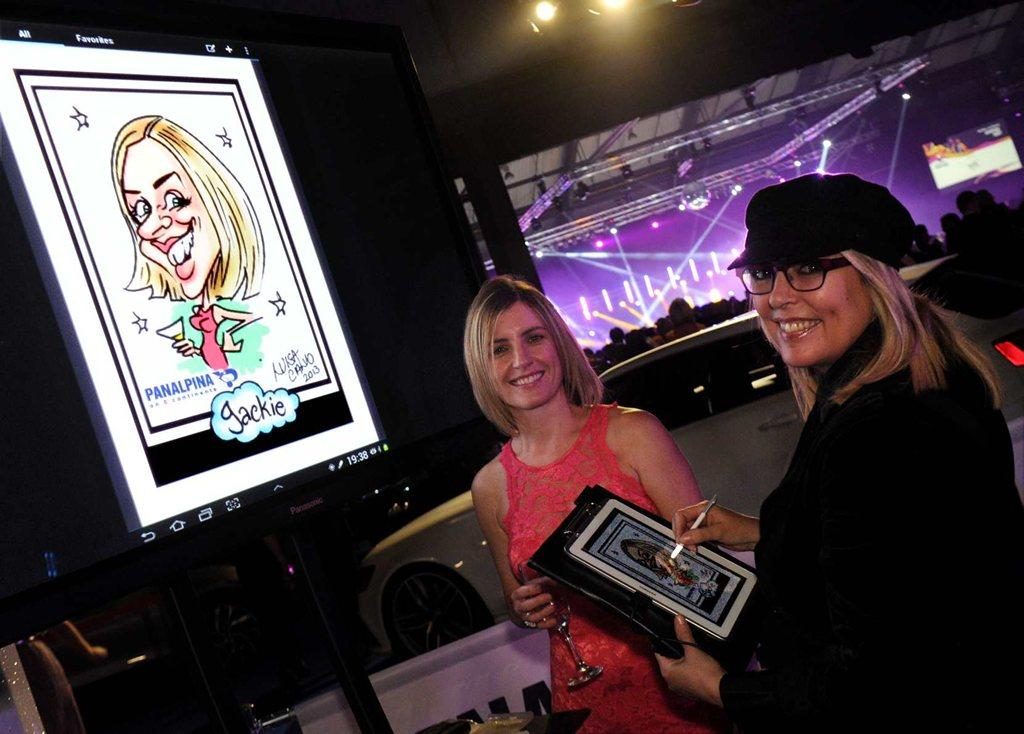 Luisa
With a Cambridge art school background, Luisa is one of the UK's leading full time professional caricaturists. Luisa's fantastic talent will amaze and delight your guests at corporate events, wedding receptions, awards ceremonies, balls, conferences, exhibitions, promotions, dinners, parties – whatever the event Luisa entertains with originality, charm and style. She is not confined to pen and paper, using her digital tablet she can produce amazing digital caricatures right before your eyes or create badge caricatures for your guests!
Looking for a different idea to draw people to your exhibition stand? Check out Luisa's new colour Tablet PC digital caricatures – projected onto a plasma screen, printed out and e-mailed to your clients – perfect for conferences and exhibitions (see below for details).
Luisa humorously captures stunning likenesses of your guests, producing 12-15 caricatures per hour. Your guests are free to continue talking and laughing – it all adds expression, movement and "life" to the caricature. Whatever the event, Luisa entertains with originality, imagination, style and charm. The perfect ice-breaker to draw people together.
During her European travels, she made a four month daily TV appearance, in which she sketched celebrities while they were being interviewed, including HRH Prince Phillip of Spain.
The BBC were quick to spot Luisa's ability, and commissioned her work for various productions including 'Jonathan Creek', 'One Foot in the Grave' and 'Beasts'. She has also appeared in front of the BBC cameras when interviewed about her work, and she produced the magnificent mural for the National Television Awards 2000 at the Royal Albert Hall in London.
Digital Caricatures:
Luisa is proud to present an exciting and innovative way to draw people to your stand at exhibitions and conferences. Luisa draws full colour caricatures in under 10 minutes and has built up her own original selection of pre-drawn backgrounds and bodies for your clients to choose from, also including your company's logo and any text required.
The caricatures are projected onto a large plasma screen so that the crowd can watch the caricatures as they are being drawn, a great crowd puller! The caricatures can be printed out and also e-mailed to your clients giving your company valuable email contacts and the opportunity to send through your publicity along with the promised caricature, creating a friendly opening for business and new business contacts.
Technical Specification:
Digital Caricatures:
Price includes printing and emailing
Louisa will need the client to provide the following:
– 2 comfortable chairs in small working area
– Plasma screen with VGA cable connection
– Small coffee table to put mobile printer on
– Power points
– Logo and any wording required for caricature templates (please send logos by email as jpeg attachments).
Standard Length of Performance: 3 hours
Testimonials:
"Just wanted to drop you an email to say thank you for sorting out the entertainment for last night's event. Just a little feedback…Luisa was fantastic – the caricatures went down a storm and were very popular. She did a fantastic job and started earlier due to early arrivals and stayed late. It was really appreciated as clients were queuing up. All attending were end client/event organisers and I cannot see her not being booked by someone for their events – a few guests commented that they hadn't seen this done digitally before and thought it was a great idea! I wouldn't hesitate to recommend or book either of them again for one of our events.
– The Brewery on Chiswell Street Ltd (via Contraband)
"Luisa was fabulous and definitely the most popular person in the room. Everyone loved her and she was non stop all evening with her fantastic caricatures. We would definitely look to use her again for other events."
– AXA Personal Lines Insurance
"Just a line to say 'thank you' for your fabulous contribution to the Columbus launch event at Kettners. I do admire how you manage to charm everyone into submission – even me!! You handled a lively and boozy occasion with great professionalism – well done! I was asked a few times about the work you do, so I am sure that more business should come your way as a result.Thanks again for your good humour and your talent, both of which added greatly to feel of the event."
– Columbus
Luisa drew a special bride & groom caricature of Des O'Connor and his bride Jodie and mingled with their the celebrity guests, sketching as they chatted. "Guests were sketched by caricaturist Luisa….setting the seal on a perfect day."
– Hello Magazine
"The performance was excellent. Can't think of anything that could have been done better!"
– Adastra
"Last night was a huge success, John and Luisa were both great ….thank you."
– West End Studios Ltd (via Contraband)
"The event appears to have gone down fantastically with everyone who was there and Luisa was much appreciated, not only by those being drawn, but also by those watching the process unfold. She's an absolute natural and mingled easily amongst the crowd appearing to have a thoroughly good time herself.Until the next time!"
– Talbot Underwriting (via Contraband)
"Thanks for your help last week. The guys were great. Client was extremely happy."
– Verve Marketing (via Contraband)
"I would like to thank you for your assistance and help with my Boss's party preparation. All Contraband acts performed incredibly well and showed the high level of professionalism. Once again many thanks and I hope to work with you in the future."
– ALM Services UK Ltd (via Contraband)
"…Luisa was absolutely lovely and clearly incredibly talented. Everyone loved her and she was extremely popular last night ! From an event management perspective Luisa was professional from start to finish – prepared, on time and flexible. Absolutely would recommend her to anyone who wanted to inject a layer of fun and guest interaction at their event. Fabulous…"
– Inspired Thinking Group (via Contraband)
"Luisa and her incredible caricatures have been the talk of the office all day today! The pictures were up on every floor by about 9am this morning. The feedback has been very positive, Luisa was professional and engaging with a lovely manner and sense of humour. We wouldn't hesitate to not only book her again but to recommend to colleagues for any future events. Absolutely brilliant, she added such a lovely element to the evening! "
– Intu Experiences Ltd (via Contraband)
"Luisa was the star of the show. Everybody loved her drawings and it was a great marketing tool for our company. She was early, stayed late and had a smile on her face the whole time. We would definitely use her services again. Thank you for all of your help!"
– ProClinical Limited (via Contraband)
"Was going to send you a note about how great Luisa was! Everyone was amazed by her portraits and it was so fantastic to be able to show them all on the big screen. The children were amazed and really laughing about their friends being drawn, so it was a fantastic day and Luisa worked really hard with only a short break. We're already thinking about how we could get her back here for another project…"
– The Orion Primary School (via Contraband)
Previous Clients Include:
Warner Bros
Rover
Microsoft
Mitsubishi
British Airways
Glaxo Wellcome
Legal & General
BBC TV
Capital Radio
Mercedes
British Telecom
Heathrow
Alliance & Leicester
Hewlett Packard
Radio Times
Jaguar
National TV Awards 2000
Virgin
Reuters
BP
Bank of Scotland
Photos of Luisa
Book Luisa
Want to book a performer, or just find out more? Give us a call on +44 (0)208 8291140 or use our online contact form via the button below.