Killer Klowns – Stilt Walkers | Warwickshire| West Midlands| UK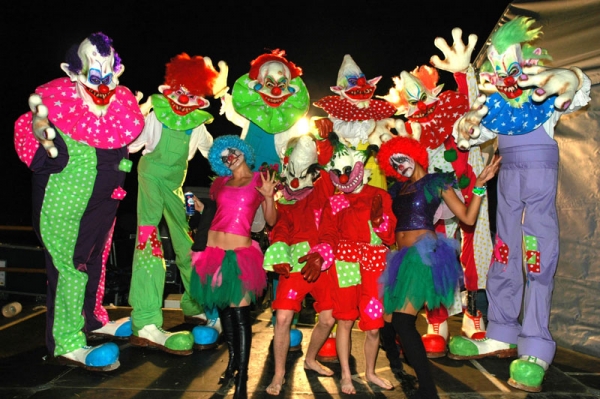 Killer Klowns
Killer Klowns from Outer Space, to give them their full title. Brand new costumes for a special Scissor Sister finale at Bestival 2006. Truly horrific – and there's 6 of them…
Welcome to Hell, those afraid of clowns!!
Massive, lumbering feet and a load of noisy and horrible props too. Darkly comic. Not for coulrophobics (those with a phobia of clowns!).
Standard Length of Performance: 3 x 30 minute sets
Testimonials:
"They guys you sent us were both great and the Killer Klowns costumes were brilliant! Really nice lads that clicked with the event, punters and venue! Happily do business with you guys again! Thanks again from the Rainbow."
– The Rainbow Complex Events Ltd (via Contraband)
Previous Clients Include:
Sony
Sainbury's
Expedia.com
Comet
Fresh
Ricoh Arena
Photos of Killer Klowns
Book Killer Klowns
Want to book a performer, or just find out more? Give us a call on +44 (0)208 8291140 or use our online contact form via the button below.