Jeni & Barney – German Wheel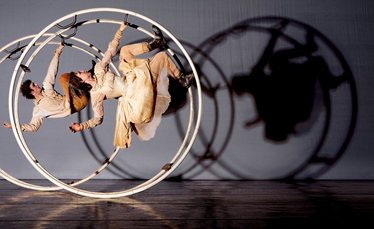 Jeni & Barney are the UK's leading German wheel duo, working physically and creatively with this spectacular acrobatic discipline. Creating shows for theatre venues, outdoor events and corporate entertainment, they produce highly skilled physical performance with emotional integrity and original design.
Acts Available Include:
Lifted
Dynamic and lyrical, Lifted is a stunningly choreographed spectacle. Perfect for Christmas or winter themed events, the acrobats are dressed in beautiful white costumes, designed by opera costumer Ilona Karas. The wheel has been created to a bespoke design and with a small circumference making its space requirements, at 7 x 3m, easy to accommodate.
The Wheel House
Rolling theatre and acrobatics show!
They defy gravity and conventions with The Wheel House: a cylindrical journey into the surreal world within! The Wheel House is a rolling theatre show, in a set purpose built to travel through the audience in the manner of a wheel as its inhabitants move within it. The show blends acrobatics, dark comedy and stunning design, in a petri dish of highly original theatre. Join these travellers on the road to nowhere, and experience for yourself their clanking and comically beautiful universe.
Length of Performance: 3 x 30 min or 2 x 45 min
Dust
German wheel acrobatics duet (two wheels)
Combining contemporary circus with Jeni & Barney's stunning visual style, Dust is a spectacle that will inspire and amaze. Created and performed by the UK's leading German wheel duo, these amazing and unusual acrobatic skills are seamlessly blended with beautifully choreographed contemporary dance. Be prepared for your heart to soar as the wheels propel the acrobats through swirling dust with grace and effortlessness.
Length of Performance: 3 x 11 min
Wake
German wheel duet
An extract from Jeni & Barney's full length show of the same name, Directed by John Paul Zaccarini. A poetic and touching exploration of relationships. Created and performed by the UK's leading German wheel duo, Wake blends this incredible and very unusual acrobatic skill with beautifully choreographed contemporary dance.
Length of Performance: 4 x 4 min
Workshops
With packages for corporate team-building, educational outreach, children's parties and professional development for performers, Jeni & Barney provide an exhilarating range of workshops that can be tailored to fit the needs of each group. As well as being experienced teachers, all of Jeni & Barney's instructors are professional physical performers. Accordingly, they provide workshops formed from expertise, up-to-date technical knowledge, and a passion for the art-form.
Technical Requirements:
Space required: 3 x 7m minimum on a raised stage, 3 x 9m min on the floor
Testimonials:
"Beautiful and extraordinary."
– Chris Evans
"Fantastic!.. you capture and engage the crowd every time"
– Greenwich and Docklands Festival
"A wonderful show…the structure has incredible detail and is beautifully crafted"
– Xtrax festival and Without Walls
"Beautiful…glitteringly atmospheric and utterly unique"
– Cirque Bijou
"An exhilarating experience that totally surpassed everyone's expectations. The workshop was well paced with enough content to keep everyone happy, no matter what their ability or experience. It was an hour and a half of achievable challenges that left everyone 'buzzing' and wanting more. Jeni and Barney's friendly and relaxed approach put everyone at ease. Their clear instructions and breathtaking demonstrations made the most nervous of us feel safe, inspired and ready for the challenge."
– Skylight Circus Arts
"They were on time, very friendly and they did a great job. It was a beautiful, excellently executed act that left the audience in complete amazement."
– Caterham Round Table
"A beautiful, excellently executed act that left the audience in complete amazement." 
– Private Client
Previous Clients Include:
Manchester International Arts
Besix
Trafalgar Square festival
The Southbank Centre
The Cultural Olympiad
Greenwich and Docklands Festival
Rush salon
The Globe theatre
The British Council
Birmingham NEC
Photos of Jeni & Barney
Book Jeni & Barney
Want to book a performer, or just find out more? Give us a call on +44 (0)208 8291140 or use our online contact form via the button below.