Jen – Portrait Artist | Hertfordshire | Eastern| UK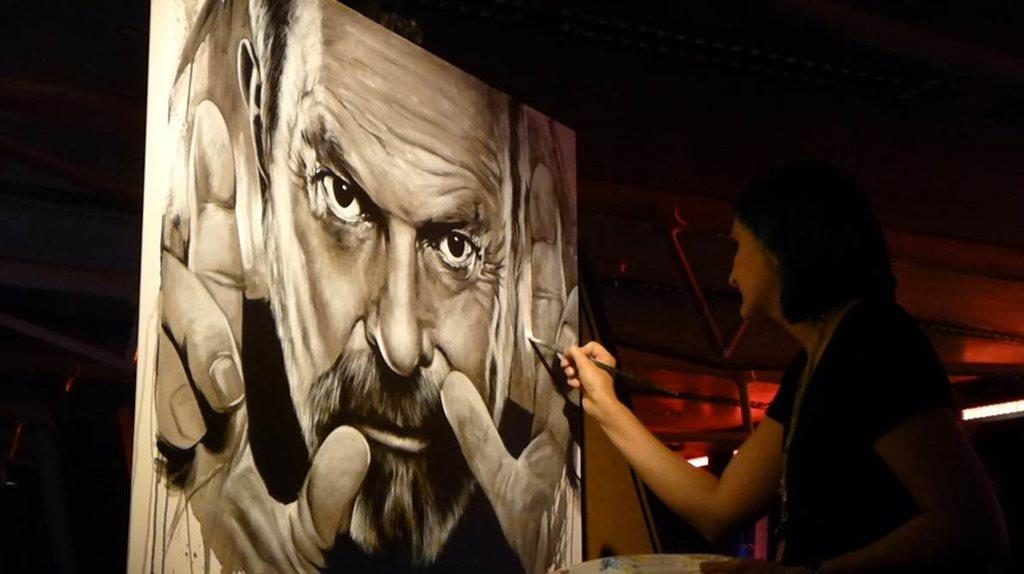 Jen
Jen's work is lively and appealing and has won her a worldwide following. Her inspirational iconic images have a power and immediacy that is enhanced by a distinctive black and white palette, often awash with colour, bringing a dynamic bold quality to each composition.
Jen graduated from the Bournemouth Institute of Art and has been working as a full time artist since 2000. As she developed her artistic and technical skills she found that spontaneity was a huge contributor to much of her best work and began to concentrate on creating pieces at a single sitting. "Working this way gives my pieces a sense of immediacy which lends character to my art" she comments. Much of her work originates in this way, before she refines and perfects the finished composition.
As she honed her extraordinary skills, she found herself in demand for commissions but also for performance. She uses these painting performances to express her particular brand of artistic bravura and create more stylised versions of the stunning portraits that have attracted so much international attention. While performance is an important part of Jen's artistic life, it is her innovative, high-impact style and gift for interpretation that makes her one of the UK's most exciting young artists.
Jen's unique portraits are now in demand all over the world. Her highly collectable imagery has sold for large sums and her work is often auctioned after being created before a live audience. Her versatile talents have won her an extraordinary range of clients including the BBC, ITV, Marks & Spencers, Barclays Bank, Virgin and the government of the UAE. She has also painted live four royal portraits, film stars and at gala events such as the cast of 'Coronation Street' as a part of the show's 50th birthday celebrations.
Also Available As An Option:
Jen also provides an option where she will attend and create one of her iconic portraits live and later, the artwork will be retained by Jen and not be offered or owned by the client.
Jen is represented globally by DeMontfort Fine Art.
Testimonial:

"Jen is simply amazing. Our clients continue to be amazed at her work. Outstanding."
– Escape Hotels.
Previous Clients Include:
Marriott Hotels
Escape Hotels
Virgin
Paradise Wildlife Park
WHF
Great Hallingbury Manor
Gasco
Government of the United Arab Emirates
Epping Breast Cancer Unit
Trevor George
P&O
Frasers

Photos of Jen
Book Jen
Want to book a performer, or just find out more? Give us a call on +44 (0)208 8291140 or use our online contact form via the button below.