Heliosphere – Aerial Balloon Show | Exeter| South West| UK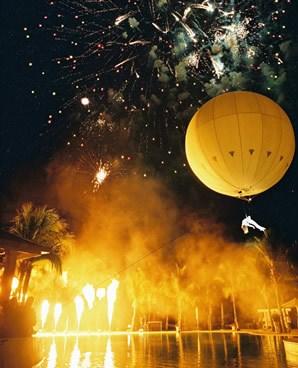 Heliosphere
Spiralling and spinning, the weightless Helionaut explores the uncharted space between street level and rooftops.
Using bi-directional harness, trapeze or cloud swing, the aerialist has maximum range of movement. Two ground crew harnessed to tether ropes, control the balloon's speed, direction and altitude.
On a calm day the Helionaut can fly down from the chimney tops and steal the sugar lumps from a cafe-goer's saucer. At night the Heliosphere becomes a giant lantern.
The Heliosphere can fly in any large outdoor or indoor space free from overhead obstructions. Under certain weather and wind conditions, they may not be able to operate…but they rarely have to cancel completely!
Standard Length of Performance: 20 minutes
Testimonials:
"The team were absolutely fantastic, thank you so so much for your help with this. They were a fantastic end to the main entertainment on the stage and really beautiful."
– TBA PLC (via Contraband)
"Thank you for bringing your amazing shows to WOMADelaide. You were a wonderful company to work with and we look forward to having you back again soon."
– Arts Project Australia
"Both the Conedancers and the Heliosphere added a touch of magic to the festival, lifted people's spirits and helped to take the whole festival into a dimension of great joy and celebration"
– Performing Arts Program
"The Heliosphere was utterly fantastic and we received so much very positive feedback about it."
– Toronto City Hall
"I would like to convey my thanks for the wonderful show provided by The Heliosphere – the client was truly astounded and in awe of the spectacle."
– Theme Traders
"This is one of the most beautiful and exotic acts on the market. I was proud to be able to include this within the show."
– Quantum Leap Productions
"The Heliosphere has been widely regarded as the most astonishing and beautiful thing ever seen at the Festival. I have to agree – an astonishing impact every time it appeared."
– Henley Festival
"The Heliosphere lot were brilliant, very co-operative and prepared to give it a go whenever it looked like there was a break in the torrential rain and wind."
– T in the Park festival
"Thank you for your beautiful performance, it was the perfect finale to our show … a surreal moment in a surreal venue!"
– HPICM
"The Heliosphere was a huge success; loads of people commenting on how beautiful it is."
– Thurrock Community Festival
Previous Clients Include:
Fools Paradise
Cirque Bijou
GSP
Cadillac Fender
Roncalli Event
Big Hand People
GDIF
Zap Productions
Event 360
Photos of Heliosphere
Book Heliosphere
Want to book a performer, or just find out more? Give us a call on +44 (0)208 8291140 or use our online contact form via the button below.