Graffiti Workshops | Surrey| South East| UK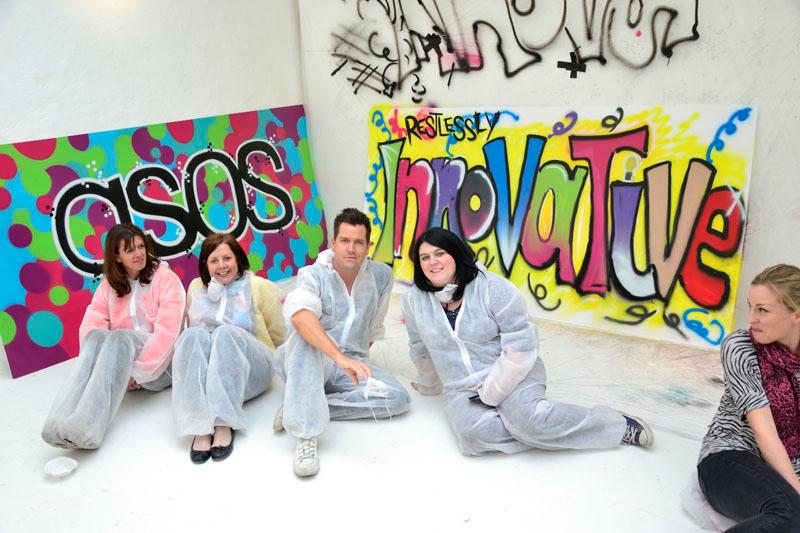 Graffiti Workshops
These graffiti workshops are the perfect way to release artistic potential and encourage communication and team work. Try your hand at real graffiti art in a safe and supportive environment. This is such a great form of corporate entertainment . If you want to book a corporate workshop that is current, and one that your employees will remember, this would be a great choice.
The enthusiastic and engaging experts will guide your group through basic techniques with a 'hands on' approach. Within a matter of hours they can teach anyone to produce authentic looking graffiti. The graffiti team building packages offer workshops that are very different to the usual office outing. Be amazed at what your colleagues can produce!
One-to-one tuition is an ideal way to see how graffiti artists approach their work, and learn the techniques involved in spray can art. They can work with anyone, from complete novice to pro. The team has worked with fine art painters who wanted to add spray paint to their repertoire, young people with a keen interest in graffiti, and those who just wanted a safe environment in which to practice and ask questions.
Options:
Standard Workshop
This workshop is approximately 90 minutes and a minimum of 10 participants is required.
The first 45 minutes is always spent with the tutors teaching tricks and techniques, so that participants quickly get to grips with the medium, before creating their own masterpiece on the on-site wall.
Battle – Group is split into teams who choose a team name or word to paint with our guidance. (Tends to get rather competitive!)
Company Specific – Group works together to re-create company branding or a word / phrase relevant to the company's current focus.
'Take-away' Workshop
This workshop is approximately 2 hours and a minimum of 7 participants is required.
Incorporates ideas from the standard workshop, but guests will create something to take away with them at the end of the session. As with a standard workshop, the first 45 minutes is always spent with the tutors teaching tricks and techniques.
Stencil – Each team member gets to take away their own piece of stencil artwork on a canvas.
Clothing – The teacher will help the team customise T-shirts with stencils and spray paint.
Mural – Some companies wish to display their team's work back at the office. If this is the case, you would paint a mural on to lightweight foam panelling which can be easily transported and displayed anywhere.
The workshops can take place at either the client's venue or at one of the workshops venues.
Optional Extras:
– Add a Street Art Tour (Central London Workshops only)
– Some people like to have a short video or a set of photographs to remember their day.
– Optional disposable overall. Not strictly necessary, as none of our participants have ever got paint anywhere other than the wall, but they do help to give a sense of excitement, anticipation and teamwork.
– Optional disposable dust mask. Again, not strictly necessary, but some people like to have them.
– Indoor Venue for groups of up to 20 participants
– Indoor Venue for groups of over 20 participants
Standard Length of Performance:
The workshop lasts for approximately 2 hours. The first 45 minutes is always spent with the tutors teaching tricks and techniques, with the second half of the session dedicated to participants painting their own masterpieces.
Previous Clients Include:
Adidas
Tesco
Mercedes Benz
BMW
TOMS
Topshop
Arsenal
Monster
Oxfam
BBC
SKY
Microsoft
Cancer Research UK
Photos of Graffiti Workshops
Book Graffiti Workshops
Want to book a performer, or just find out more? Give us a call on +44 (0)208 8291140 or use our online contact form via the button below.