Carrie-Ann – Dita Von Teese Burlesque Act | UK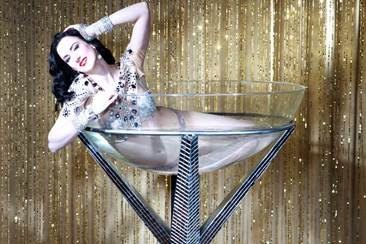 Miss Carrie-Ann is the world's only tribute act to the burlesque legend Dita Von Teese and has been performing her Tribute to Dita show since debuting on the entertainment stage in 2008.
Miss Carrie-Ann's attention to detail is outstanding and her iconic costumes are second to none. With a striking resemblance to Dita, her shows are truly authentic. Her spectacular show pieces include replicas of Dita's Giant Martini Glass, Birdcage and her latest addition – a giant Birthday Cake! Miss Carrie-Ann's shows are the epitome of glamour, glitz and sophistication.
As her impressive clientele attests; Miss Carrie-Ann has performed across the globe for brands such as Moet, Range Rover and Activison. In high demand, she has performed her show in exotic locations for Royalty and VIPs. Exclusively, Miss Carrie-Ann has performed for the likes of Mick Jagger, Matt Damon, Lisa Snowden, Westlife and many more!
Shows
The Martini Glass
The Martini Glass show is one of Dita's world famous burlesque acts. The 'girl in the giant glass' is such an iconic burlesque image. Carrie-Ann portrays this act extraordinarily. Opening with the most dazzling gown removing layer by layer. A beautiful wet finale as she splashes around in the Martini glass. She even has the giant olive sponge! This is one of Carrie-Ann's most requested shows ultimate glamour at its best!
Pretty in Pink
Dressed as a beautiful showgirl this act is visually stunning to watch! Paying tribute to one of Dita's signature routines wearing the iconic crystal top hat. She teases the audiences with her enormous feathers removing each layer down to a pretty parasol! A cute, fun, deliciously girly act!
Bird of Paradise
Carrie-Ann is dressed with bright fushia feathers as a beautiful, exotic bird of paradise, swinging on her golden perch in a giant 9ft gilded birdcage. Mesmerizing the audience as she spins around in her cage, she removes her corset and tail feathers with elegance. She then dances with two huge exotic fans before returning to the cage to spin upside down for the finale!
Diamonds in the Buff
This sparkling act is 1950s classic burlesque at its best! Her dazzling costume pays tribute to one of Dita's most extravagant costumes. Elegantly removing each swarovski layer this is pure sophistication and the perfect complement for the glass show.
Happy Birthday!
This is a burlesque classic also performed by Dita! Carrie-Ann starts in her giant cake and pops out to surprise your guests or the special Birthday Girl or Boy! There is then a confetti explosion of pink petals! This huge birthday cake and Carrie-Ann is a great way to celebrate any party especially when combined with the Pretty In Pink show.
The Absinthe Glass
Carrie-Ann is a deliciously dark Femme Fatale creating the mood of a 1930s cabaret club. Dressed head to foot in jet black shimmering crystals, captivating the audience and taking them to the dark side! Bathing in a giant glass of absinthe – complete with a giant sugar cube – for a wonderful erotic and hypnotic finale!
Standard Length of Performance:
Her shows range from 5 – 8 minutes.
Testimonials:
"Carrie-Ann's glamorous performance at our recent birthday celebrations was nothing short of spectacular. She really added class and personality to the event with her vibrant, sassy burlesque inspired skits. Carrie-Ann proved herself to be an outstanding performer in our busy bar; and professional too. Highly recommended – we're looking forward to her next appearance."
– Tantra Lounge and Bar
"Brilliant, you are very much like Dita!"
– Westlife
"Carrie Ann brought her giant glass and an air of sophistication as soon as she arrived. Carrie soon breathed beauty, elegance and sex into the venue, which left everybody inside mesmerized; we look forward to having her back in the midlands."
– Private Client
"The Tassel club management was blown away by Carrie-Ann's professionalism and our audience was swept away by the beauty of her performance we can't wait to have her back in Dublin."
– Tassel Club
"I enjoyed your performance very much!"
– Simon Cowell
"That was charming Carrie-Ann!"
– Piers Morgan
"Carrie Ann, performing her Dita Von Teese Tribute act, is a picture of professionalism and perfection with a pristine, "foot-perfect" act. For a truly elegant, captivating (and very accurate) tribute performance, choose Carrie Ann and the fabulous Dita Von Teese Martini glass tribute – it's the closest you'll get to the real thing."
– Burlesque Blue
"Just a note to say Carrie Ann was absolutely fantastic last Thursday. The night was a massive success and the audience loved her performances! Carrie Ann and her team were all extremely professional and a delight to work with."
– Grace Bar
"Burlesque Beauty "
– Nuts Magazine
"Class in a Glass!"
– The Sun
"Sexy Carrie is such a tease!"
– The Daily Star
"Carrie Ann was lovely and looked incredible. Lots of positive comments from our customers too!"
– Amber Bar
"Can I say how thrilled I was with Carrie Ann's performance, very professional, she gave more than expected and was worth every penny. I think she even broke a few hearts! Thank you, I would definitely would recommend her again."
– Private Client
"First of all, I want to personally say a 'huge thank you' for your outstanding work and support with our party for Jagex last December. You and the performers were amazing and the event was a great success…I really hope to be able to involve you again."
– Pebble Productions (via Contraband)
"The event went really well and Carrie added a really nice glamorous touch. She totally got that the event was corporate and was doing her thing in the background while our guest mingled around her, which was exactly what we wanted. Please pass on my thanks to her."
– BGC Partners (via Contraband)
Previous Clients Include:
Activision/Dj Hero
Alchemist
Althorp House
Amber Bar
Battersea Park Events Arena
Beaumont Estate
BGC Partners
Blackpool Pleasure Beach
Blotts Country Golf Club
Bordello Bar
Brocket Hall
Bibury Court Hotel
Celtic Manor Resort
Christie Charity VIP fundraiser
FHM Party studio Velbourne
Grace Bar
Greene Room
Dinner Spectacular
Harvey Nichols
Hakkasan
Hunters Hall
Home House
Illmasqua
Iscoyd Park
James Bond pre-screening event
Jewel Bar
Kelham Hall
La Laterna
II Bottaccio
Lisa Snowden
Mick Jagger
Moet & Chandon
Nokia
Nomi Burlesque
Nuvo
Oatlands Park Hotel
Olympia
Pigalle Club
Pulse Night Club
Ramada Hotels
Range Rover
Palm Beach Casino
Paris Club
Saatchi Gallery
Sketch Bar
Stechworth House
Steppingstone  House
Sun Mark LTD
Tallulah's Late Lounge
Tantra Bar
Taplow House
The Assembly
The Bellhouse
The Chelsea harbour Hotel
The Circle Club
The Drill Hall
The Dorchester
The Eaton Hotel
The Empire Theatre
Grosvenor House,
The Hilton Metropolitan
The Hilton Park Lane
The Hotel Majestic
The Kerrang Awards
The Haymarket Hotel
The Lowry Theatre
The Mayfair Hotel
The Natural History Museum
The Plaza
The Round Table's 8th Annual Ball Hereford
The Savoy
The Shelbourne Hotel
The Society of Distinguished Song Writers
Tiger Tiger
Tom's Kitchen
Watfordhall
Westlife
Photos of Carrie-Ann