Balloon Caricaturists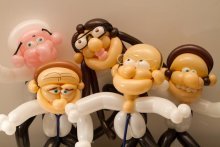 Balloons made into the likenesses of your party guests! This highly unusual caricature act really gets guests chatting to each other, and leaves them amazed and delighted with a totally unusual take-home gift! Brought to you by the hilarious and skillful Balloon Lunatics, whose unique caricaturists act has thrown them into the TV limelight with the likes of Des O'Connor and Jenni Eclair. Totally original and loads of fun!
Costumes Available Include:
Red & White: These colourful characters really stand out in a crowd! They are great for family fun days or general mix and mingle, and are available on stilts or on ground level.
Black & White: These cheeky 60's dolly rockers add humour to any party! This fashion conscious duo like to accessorise everyone in the room with balloons – handbag or corsage anyone? This is also available as a male character. Great at Matmitzvah's and any black & white themed event!
The Monochromatics: Add a touch of glamour to your event with the Monochromatics. They will charm the socks off the unsuspecting guests.
Elves / Pixies: The Elves are cheeky and very naughty! They have been banished from the toy workshop in the North Pole and they have been told to practise with balloons until they are good enough to return! Great at Christmas parties and woodland themes. They can also add different accessories to become leprechauns for St Patrick's Day.
Fairy / Angel: These magical creatures can make all your wishes come true! You can have anything you ask for, so long as you don't mind it being made from balloons!
Swimmers: Add a bit of sunshine to your life with these bathing belles. They love to create balloon hats, rubber rings, ducks, fishes, octopuses, and many more!
Bespoke: Balloon Lunatics are also able to create costumes tailor made to suit your event theme.
Standard Length of Performance:
3 x 45 Minute Intervals
Testimonials:
"Just to let you know that we thought Natalie was fantastic, as did all our guests. She added much fun and colour to our event, I think she had people queuing at one stage! We would definitely hire her again."
– Rabobank
"Oh I love them! I'm going to wear these all evening!"
– Sophie Ellis Bextor
"Incredible! Thank you!"
– Des O'Connor
"Thank you for letting us have Balloon Lunatics at our kid's pantomime at Apple on Saturday 7th January. I am so glad that we picked her for this particular event. The parents loved her as much as the kids- who thought shewas the best thing since sliced bread. We particularly liked the way she spoke to the kids – very professional. I have now decided to take up balloon modelling as a side line – she made it look so easy, although I'm sure it's not!!! We shall definately be booking the Balloon Caricaturists again for future events, so please pass on our HUGE thanks to her"
– Apple
"Just wanted to write you a quick note to say thanks for all your help with organising the Balloon Lunatics entertainment for our Christmas event on Friday – the girls were absolutely fantastic and everyone really enjoyed all their crazy balloon modelling! The girls were very professional and really lovely to talk to – having them there helped everyone relax and made sure our night was lots of fun! I didn't know so many things could be created with balloons – from hats to tiaras and handbags! Please pass on our warmest thanks to the girls – we will definitely be recommending them!"
– REAL Solutions
"I just wanted to say thank you so much for the people you sent to us yesterday, they were fantastic and everyone loved them!! I have never seen a balloon artist that is so talented! "
– Betfair
"The event went very well and all the performers where excellent. Can't think of anything that could have been done better! Thanks for your help in organising them."
– Adastra
"Wow look it's a mini me! this is the best wedding present ever!"
– Private Client
"No one is talking about the food or the marquee or how amazing I look in my dress, they are all talking about the balloon centre pieces!"
– Private Client
"I just wanted to take the opportunity to thank for you for your on-going support throughout the past 6 months. In particular can I just say a huge thank you to the balloon caricaturists – they went down a treat and we had a lot of positive feedback from the exhibitors and delegates!"
– AMA Ltd (via Contraband)
"It was great and the performer was really really good!"
– Brit Insurance (via Contraband)
"I was just hoping that you would be able to pass on our thanks to Laura and Martyn the magicians and Sarah the balloon caricaturist. Everyone was very impressed by both acts and the novelty of a balloon caricaturist went down very well…"
– BNY Mellon (via Contraband)
"Just a quick note to say how incredible the lady you supplied to us at The Big Top on Saturday was. Everyone was amazed at her work, such a lovely lady too. Thanks again, hope we can work together again."
– World Fuel Services Europe Ltd (via Contraband)
"…The balloon lady had a fabulous personality and was very popular, she dealt with our guests very well and everybody was very excited with what she made, even the men!! I would definitely recommend her…"
– Noble Foods Limited (via Contraband)
"The event went very well thank you – both the ballon caricaturist and the magician were very well received by our guests. They arrived on time and did a great job – so thank you very much!"
– Nabarro LLP (via Contraband)
"…..The Balloon Caricaturist was fab…. everyone enjoyed her, she was brilliant with the children and wowed the adults. Angela was very bright and kept everyone interested in what she was creating. She was an asset to the evening!"
– Private Client (via Contraband)
"…. I thought the balloon caricaturist was amazing, she was so creative and up for fun…..Thanks for all your help!"
– The Bank of New York Mellon (via Contraband)
"Jenny was amazing and everyone loved the balloons. We really appreciate the efficiency of your booking system and thoroughly enjoyed the balloon caricatures."
– Private Client (via Contraband)
"You need to get Joanna back on site before the end of the incentive, she's been amazing! Demand has been so high that she's literally had to turn people away, but her work is immense and if possible we'd love to have her back with us! The staff, myself and Gemma can give her nothing but praise for today, and… she's been in Coronation Street, what more can you ask for?!"
– Rare Breed Marketing Limited (via Contraband)
"The balloon caricaturist was a great hit! She was so enthusiastic, punctual and did a FABULOUS job! We are passing details around the agency so hopefully can use her again!"
– Cirkle PR (via Contraband)
"Thanks for checking in. All went very well indeed. They both went down a storm and our client was delighted with them both….Look forward to working with you again."
– Big Little Co Ltd (via Contraband)
"Thanks for your email! The event was extremely successful and much more than expected was raised for Marie Curie! All the entertainers were fabulous, please extend our thanks to them all!…."
– Atom Events Ltd (via Contraband)
"The balloon caricaturist was great, she was really lovely and she went down a storm. Everyone was very impressed with the creations. Both myself and Jen had a caricature made and I thought these were great. Our CEO was particularly amazed by the fact that she made curly hair for mine!…Thanks for all your help!"
– Ten Concierge (via Contraband)
Previous Clients Include:
Marks & Spencer
O2
Alliance & Leicester
Edwards Harvey
Betfair
Unilever
John Lewis
Lloyds TSB
Adams Creative
Balloon Caricaturists are caricaturists in London, perfect for conference entertainment, corporate event entertainment, award ceremonies, wedding reception entertainment, private parties, birthday party entertainment, family party entertainment, civil ceremony entertainment, exhibition stand entertainment, office party entertainment, charity ball entertainment, drinks party entertainment, christening entertainment,  bar mitzvah entertainment, bat mitzvah entertainment.
Photos of Balloon Caricaturists
Book Balloon Caricaturists
Want to book a performer, or just find out more? Give us a call on +44 (0)208 8291140 or use our online contact form via the button below.